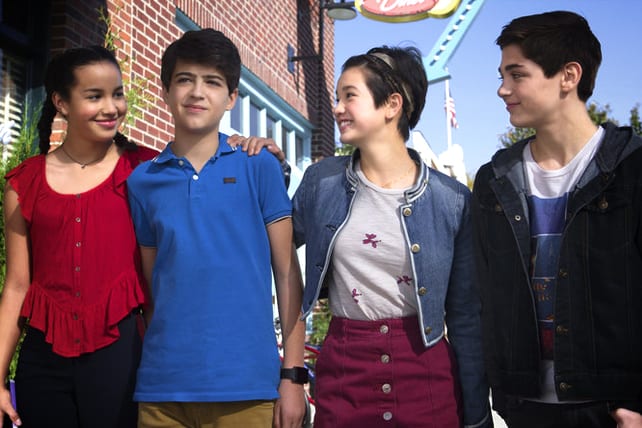 The Walt Disney Company recently announced that one of their most popular shows, Andi Mack, will include a storyline in which one of its main characters discovers he is gay. In the season premiere, a middle school boy named Cyrus finds he has romantic feelings for a male friend named Jonah. Over the next several episodes he will come to terms with the idea that he is gay.
It's not surprising that a mainstream television show for children would feature such a storyline. Our culture has stated that there is nothing wrong with being gay, and if there is nothing wrong with being gay then, of course, there's nothing wrong with finally having a gay character. Nor am I surprised that Disney would choose this path. The Walt Disney Company is not a Christian company; we can't expect them to produce content that aligns with a Christian worldview.
On the other hand, as one of the leaders in entertainment, Disney's reach and ability to mold culture is unprecedented. We should be aware of the messages they put out, as they will certainly help shape the beliefs and convictions of the young people watching. As a Christian and father of six children, it bothers me that Disney would send this message to young children who are searching for truth and still building the foundation of their values.
So, as Christians, what action do we take?
Personally, my younger kids won't be watching this program, as this is far from what I want them exposed to. I would encourage any Christian family to think twice before allowing their children to watch Andi Mack. At some point, as a Christian parent, you'll have to make decisions that build the strongest foundation possible for your children, and that will probably include choosing to go against the tide of culture and refusing to participate. This might be a good time to talk to your kids about your standards and why you, as a family, make different choices than common in our culture.
Alternately, if your children have been watching it, and you choose to allow it, use it as a starting point for good discussion. After all, gender identity challenges in the media will only get more common. We do need to be talking to our kids about this reality. A program like this, viewed together with your kids when they're mature enough to discuss it, could be a great way to start a conversation. Answer your kids' questions. What does the Bible say about gender and sexuality? Why is it important? But also, how are we to treat those who are different than we are? How can we show love to people who disagree with our views?
Disney still produces content that is good, so I don't think we need to throw the baby out with the bathwater. It's certainly possible to take the good and leave the questionable, we just need to be aware of what our children are watching and the messages that come with those shows.
For resources on talking to your kids about gender and sexuality…
Living in a Gray World: A Christian Teen's Guide to Understanding Homosexuality by Preston Sprinkle
God's Design for Sex Series, 4 Books: Stan Jones, Brenna Jones
I would love your thoughts.
This article originally appeared here.