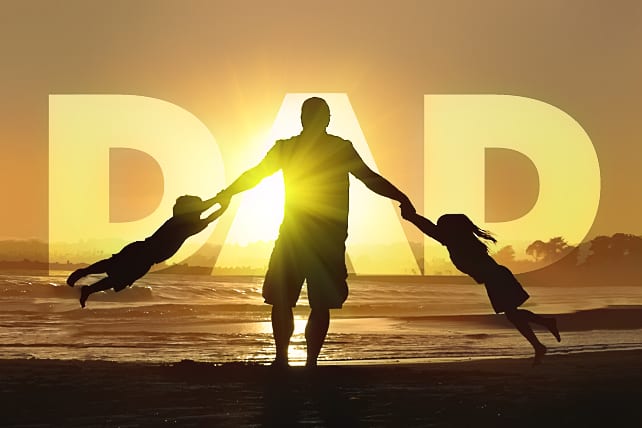 Do you need some new Father's Day ideas for June? Then check out these suggestions, and adapt them for your church and Sunday school classes. Kids will love honoring their fathers and other special men.
These Father's Day ideas give kids and congregants an excuse to pamper beloved guys. That includes dads as well as grandfathers, uncles, and other men who are like a father.
Check out all these Father's Day ideas for showing your appreciation!
11 Father's Day Ideas to Celebrate Dad
1. No chore week
Declare a no-chore week leading up to or surrounding Father's Day. Everyone else mows the lawn, takes out the trash, or changes light bulbs. Give Dad time off to do whatever he wants to do. He might enjoy a free day to go bowling or stroll through a nature center. Or he can simply relax in a hammock with a glass of iced tea.
2. Fill Dad's love tank
Tell Dad why you respect and appreciate him. Write your reasons on index cards and in everyone's own handwriting. Then let Dad keep the cards to read when he needs some encouragement.
3. Watch a sporting event Dad likes
Put down books, phones, and video games. Then actually watch the game with him! Just making the effort to learn about what Dad likes will make him feel loved.
4. Ask Dad about his occupation
Take an interest in Dad's work life. Learn as much as you can about what he does for a living. That way, you can have more conversations in the coming weeks.
5. Video love notes
Make videos for Dad on your cell phone. Keep them short, but allow each child to share a message. You can even create your own message, telling your husband what a fabulous father he is. Send them as text messages the next week, spreading them out to keep the love going.
6. I love you because…
Give a child some paper and coloring utensils. Then ask, "Why do you love Daddy?" Allow the child to draw or write their answers down. Tuck them in an envelope and hide it somewhere Dad is sure to find it.