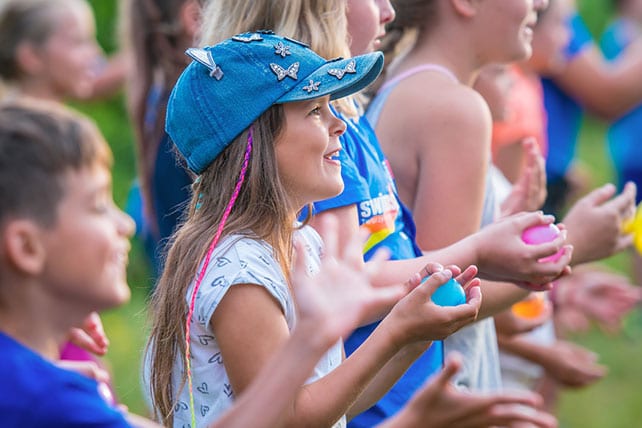 During this season of social distancing with quarantines, sheltering in place, and online church, children's ministry leaders are already diving in to solve what Easter will look like for their kids this year. On the heels of this decision, they're also looking forward to VBS 2020 and wondering what they will do in the age of Covid-19.
"For many churches, VBS is the largest outreach event they host all year," says Tracy Watkins, Group Publishing's VBS Business Director. "More importantly, it's one of the most effective outreach opportunities they have each year. Every summer, thousands of kids experience Jesus for the first time and begin a lifetime relationship."
It's no wonder that children's ministry leaders (who also plan wa-a-a-a-y ahead) are weighing their options now. To help answer the questions about VBS 2020, we have been having conversations with leaders in our ChurchLeaders' Facebook group Children's Ministry Ideas & Encouragement. And we've reached out to the experts–Group Publishing and LifeWay Kids–two of the largest vacation Bible curriculum suppliers.
6 Options That Children's Ministers Are Suggesting About Summer VBS 2020
Ministry friends jumped in to respond to Tiffany Christensen from Friday Harbor, Washington, when she asked in our ChurchLeaders' Facebook group Children's Ministry Ideas & Encouragement:
"I work for a church that pours a lot of money and support into our VBS. I am currently about 50% through my purchases (VBS 2020 is scheduled for mid-July). I am now faced with this tough decision: Do I continue to purchase materials? Or wait? Are people already talking about postponing or canceling? What are other churches doing?"
Option 1: Plan VBS as though nothing has changed.
"From our perspective it's still too early to make a definitive call," says Chuck Peters, Director of Operations for LifeWay Kids. "Things are changing rapidly day to day, and we need to operate on the assumption that VBS will be on. We are pressing forward with a mindset that we need to be prepared for VBS to happen as planned, in hopes that it will. We have talked to many church leaders all over the country and we are hearing that churches are still planning on VBS happening this summer."
Sarah AnnMarie Kilpatrick, children's director at Calvary Baptist Church in Nacogdoches, Texas, agrees. She encourages leaders to "keep on keeping on. Plan. Pray. Purchase. (If you can buy stuff safely). If we can't do VBS this year, we will be ready for next year! Our whole 2021 VBS budget could go to something else."
LifeWay Kids' Peters points out a great insight that may spell a bigger opportunity for VBS 2020:  "Some may push their dates a little later depending on developments; but many are also aware of the possibility that this summer's VBS may be their best attended one in years, believing that parents will be ready to get their kids out of the house, and kids will be hungry for interpersonal connection and fun."
Option 2: Cancel VBS for 2020.
Samantha Herard from Transformation Church in Orange County, New York responded: "We have a high amount of cases where we are including the schools themselves. It's not going to take a few weeks to get rid of the virus. We don't expect kids to go back to school this school year. If school doesn't open, a kids camp will not be successful because we would lack volunteers and parents would still feel uncomfortable. We don't want to be the church that helps spread the virus."
Option 3: Plan VBS 2020 conservatively.
Karin Gelatt Hulbert, VBS director at Calvary Grace Brethren Church in Alto, Michigan, says, "I'm planning as normal & purchasing supplies (probably not everything for crafts yet however). I'm not going to start making big decorations as I simply don't have room to store them. Our state department of education stated the school days missed need to be made up so if that stands, it would be a struggle to fit it into summer 2020."
Option 4: Put VBS 2020 ordering on hold.
That's what Cathryn DuBose Shurett is doing in Woodstock, Georgia, is doing. And Bobbi Jo Bruni, children's ministry director at CrossPoint Alliance Church in Lewiston, Idaho, says, "I'm on hold and asked to not spend any money if I don't have to at the moment. Our VBS is usually mid-June so it's a total unknown as to where we will be at that time."