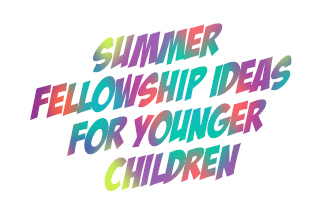 Virtual Field Trip
When is a field trip not a field trip? When you go to lots of places…but never leave the church! Tap into the wonderful imaginations of first and second graders with this self-contained field trip fellowship. The trick to making this fellowship fun and easy is to divide and conquer! Make several small assignments for different people. You end up with lots of help, and no one is overwhelmed.
One or two people can be responsible for each "stop," a couple for designing the buses, a couple for "on-board" activities, but everyone helps with cleanup! Each stop lasts about 20 minutes with 10 minutes between to board the buses, sing a travel song, and unload at the next stop. If you schedule the fellowship around lunchtime (11:00 a.m. to 1:00 p.m.), the lunch stop can occur in any of the time slots.
The Bus
Set up the bus in the fellowship hall or any large area. This can be as simple or as elaborate as your time and resources allow. Arrange rows of chairs, two on either side of the "bus aisle." If you anticipate a large crowd, you may want to designate more than one "bus" with about 15 to 20 passengers per bus. (Note: If you have multiple buses, rotate the schedule so that different groups go to different destinations at each "stop.")
You can designate a bus area by putting tape on the floor around the chairs, by using a large cardboard box to create the front "grill" of the bus, or go all out and construct cardboard sides for the bus.

Load the bus at the beginning of the fellowship, between stops, and at the end.

Sing "bus" songs or use this time to learn a new choir song.