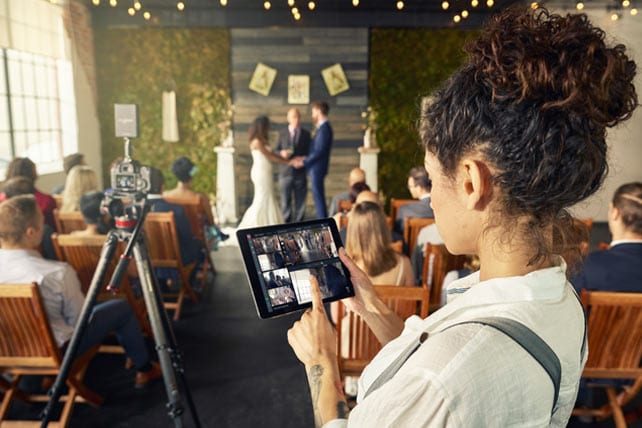 A video switcher is an important component of video production and livestreaming.
What Is a Video Switcher?
But what exactly is a video switcher and what value does it provide to videographers, vloggers, and other content creators?
Simply put, a video switcher is a piece of equipment used to switch between different video or audio sources. A video switcher is also known as a production switcher or video mixer. Although the main functionality of the device is for selecting between the sources of audio or video, it's sometimes used in mixing video, setting compositions, and adding footage, graphics or special effects on a secondary source for a video production
No More Bulky Wired Setups: Modern switchers like SlingStudio are lite and wireless allowing you to move around your production set or event area – get all the angles, without the hassle!
How to Live Switch During a Video Production
The way it works is the video switcher selects between multiple incoming video signals from various sources (camera, PowerPoint feed, etc.) and directs one of those signals to a single output that could be a streaming device, video recorder, display device (i.e. a monitor or screen) or all the above.
Video switchers can create different visual effects, ranging from simple mixes and transitions like dissolve to elaborate special effects bringing your video productions to the next level. The device can also be used to perform keying operations and help in producing color signals.  During a shoot, a technical director is typically the one that controls the switcher, analyzing the various incoming camera angles, and selecting the best view to output.
Get the Most Out of Your Video Productions
If you're looking to enhance the value of your video production, integrating multiple camera angles using a video switcher is a great way to get started!
Don't have a big production staff? No problem! Some of the best-in-class switchers also come with an "auto-switching mode" – a new feature that we recently released for SlingStudio.
Curious about more definitions to video production terms you've heard tossed around? Check out our glossary of commonly used terms to learn more.
Worth a look: The YouTube video below does an excellent job of describing the SlingStudio Video Switcher and wireless multi-camera platform in a nutshell.

This article originally appeared here.