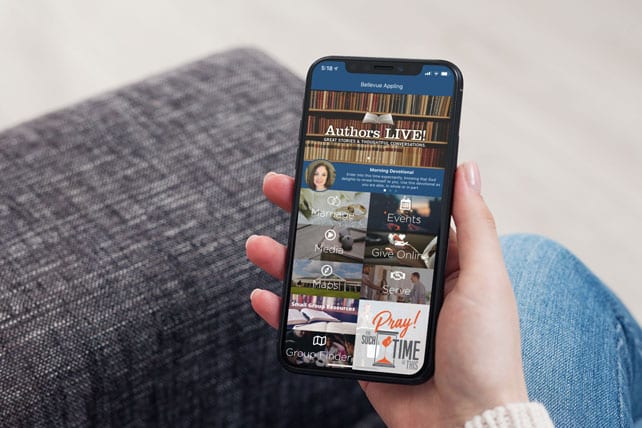 When it comes to adoption of new communication technologies, the church has typically been at the forefront. The first book ever printed on Gutenberg's press was the Bible, after all. Beginning in the 1950s and 60s Billy Graham took the format of the tent revival global by utilizing satellite broadcast technology. A cursory glance at the app store or Youtube will yield dozens of Bible reading apps, plans, and sermon podcasts. And yet until recent events, churches still revolved mostly around the weekly rhythm of in-person services on Sundays and weeknight Bible studies. The COVID-19 pandemic has thrust humanity—and the church—into a new and unprecedented reality. More than 3 billion people worldwide have been told to shelter inside and distance themselves from anyone who is not a part of their household. This "new normal" has forced the church to change the means by which she cares for her people. A silver lining that could be drawn from the pandemic is that it has arisen at a time when technology has helped believers connect through a myriad of digital channels: video conferencing, social media, group chats, live streaming, and more.
Church leaders are having to switch from becoming organizers of in-person gatherings to daily online teachers and media producers. Older congregations that were previously resistant to taking services online or utilizing social media have been goaded by necessity to learn those mediums.
Following the first week of shelter-in-place orders across the country, church leaders convened in a thread on the Church Communications Facebook group to share what they learned about conducting church solely online. One user wrote, "We learned that if people are motivated to commune, they'll learn new technologies to do it! We had all ages participating in Zoom rooms. So encouraging to see our older folks willing to try new things."
Another observed, "We learned that online church doesn't have to look like in-person church. We shot videos in closer, used more intimate, comforting surroundings, and tried to make sure everyone made eye contact with the camera. In the end our 'worship service' lasted 35 minutes, but it felt right."
Other forms of technology are helping churches engage their congregations in this new all-digital form of human connection. At a time when they can't physically pass the offering plate, churches are encouraging their congregants to enroll in online giving, recurring giving being the most preferable option as it creates predictability and stability when everything else seems uncertain. Before the pandemic, churches with a smaller percentage of their budget coming from recurring online giving have had to rethink their strategies (something that will continue to change the longer people are told to stay home).
Church management systems enable staff and believers connect, to check in with individual people using personalized links sent via email. ChMS's with mobile-first design like TouchPoint enable churches to embed live streamed services and downloadable resources that empower families to connect at home, or in virtual groups.
Churches have always been organizations centered around innovative uses of media to share the Gospel and help believers connect. The early church met in private homes, face-to-face with their congregants. In the COVID-19 world, we've oddly returned to that format, just mediated through digital channels. Eventually, the church will meet corporately again. Until then, how will she adapt to the new normal?
Author Bio: Leah Davenport serves a Marketing Manager for TouchPoint Software, a church management system based in Dallas, Texas. TouchPoint was birthed out of Bellevue Baptist Church in Memphis, Tennessee with a vision of being built by the church for the church. A Pursuant Group company, TouchPoint serves hundreds of churches. The web-based, mobile-first solution helps churches move believers toward maturity by supplying tools that engage and connect people to community.