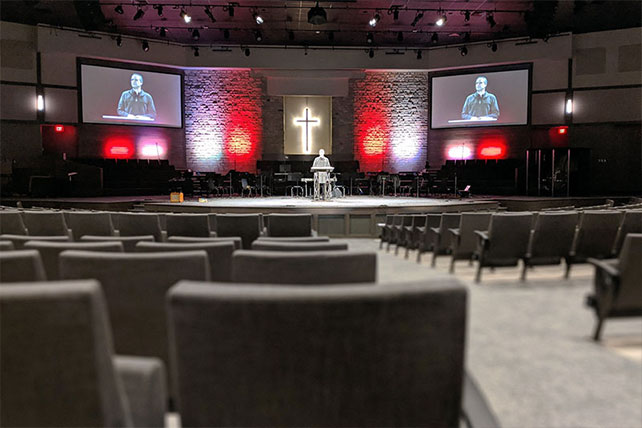 Since 1964, Grace Polaris Church in Columbus, Ohio has seen a rapid increase in their congregation from a group of 30 to now serving over 2,000 members. As Grace Polaris' congregation continued to grow, their need for a new worship center increased and in 2018 they started construction on a new space. They turned to InteRise of Nashville, TN for an extensive AVL and acoustic installation that would transform the space and engage their audience.
At the beginning of the partnership between Grace Polaris and InteRise, no one could have imagined a full-time switch to only live-streamed services. Through a dedication to providing the best possible service and equipment while anticipating needs before they arise, InteRise helped upgrade the systems to ideal quality just in time.
Grace Polaris' new upgrades have helped them adapt to our current new normal of social distancing. A NEXO STM speaker system, along with an Avid S6L-32D console allow the church to boost their live production. These additions met the needs of being able to record to ProTools and do virtual sound checks which allows the volunteers to record all of the channels before a service and practice mixing, along with providing high channel count. The MADI card option for the E6L engine accommodates track playback on stage from the computer running Ableton Live software making it simple for the band to play along with pre-recorded tracks.
Additionally, the new Dante-enabled audio network from InteRise, Grace Polaris now has the flexibility to create a custom mix that's catered for an at-home audience with a separate broadcast audio console, while still mixing in-house for the benefit of the worship team.
"With the entirety of our church services currently existing in a digital space, the excellence of our video production has become a high priority," explains Jonnie Barlow, Creative & Live Video Producer at Grace Polaris. "Any small mistake becomes much more apparent when it's the only channel that the congregation has for experiencing the service."
"Consequently, the newly installed video production system has become a vital asset," Barlow continues. "With reliable hardware that won't flake out, a switcher and graphics package that allow for much more visual creativity, and a high-bandwidth multi-channel recorder that allows for maximum post-production flexibility — and for ironing out any mistakes — we've been able to greatly improve our online offerings in order to keep our congregation as connected as possible in this disjointed time."
Barlow notes that his favorite part of Grace Polaris' new system is the Carbonite Black switcher and the accompanying 2 ME panel. In the past they had been strictly limited to a standard definition 1ME switcher with minimal keying and DVE capabilities. They are now equipped to produce more dynamic, creative experiences that highlight the wide array of creative talent at the church.
While the added complexity could have been overwhelming, the seamless integration of the video system with Ross Dashboard and the ability to program robust custom macros that fire at the push of a button means that even the most complicated, creative executions can be accomplished by a relatively inexperienced volunteer crew. Yet, a switcher is of little use without inputs, and the Sony HXC-FB80 cameras were the perfect fit.
The new lighting system at Grace allows for various dynamic looks in the worship center to be created. The Sony HXC-FB80 camera wide dynamic range and the fully equipped remote control panel allows for quick adaptation to many different lighting looks. Additionally, Ross pan-tilt-zoom (PTZ) PivotCams provide secondary angles to compliment the Sony HXC-FB80's. The PivotCams seamlessly integrate with the Ross Carbonite, and their color can be matched with the internal ProcAmps and Color Correctors. Having high-quality cameras staged at different angles allows the at-home viewer to feel immersed in the experience.
"The best feature is undoubtedly how easy it is to call up shots on the PTZs, with near-infinite recall available through Dashboard and precise tweaks possible with the switcher panel's onboard joystick," explains Barlow. "With all this integrated together, our five man crew can produce a service that looks like it required ten, and I've never had more fun working on a Sunday morning service."
When Grace Polaris needed to select an AVL integrator for their long-awaited worship center renovation, they sought out a company with proven experience and expertise. But beyond technical knowledge, they wanted a long-term relationship with genuine people. They needed a partner that would work with them to accomplish all of their goals, even with a limited budget.
"From the beginning, the InteRise team has gone overboard to make sure not only that we have a functional system, but that we have so much more capability to learn and grow down the line," says Barlow. "Along the way, InteRise constantly demonstrated their professionalism, diligence and care for our team in a way that I've never experienced from an audio/video company before. Rather than viewing us as a sales figure, they've treated us as partners, helping us to accomplish our ministry goals in a technologically excellent way, and I couldn't be more thankful for that."
About InteRise: At its core, InteRise is here to partner in impacting people by creating customized designs and builds with world-class audio, video, lighting and acoustic systems for churches and corporate spaces. InteRise believes it is their responsibility to steward the client's process with excellent service, straightforward communications, and passionate team members, and no matter what, they do the right thing. For more information, visit InteRiseSolutions.com.