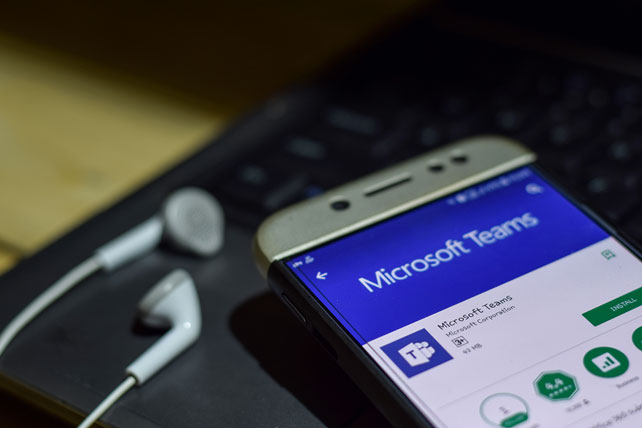 Microsoft Teams for churches is the ultimate staff communication and collaboration hub. It contains everything you need for effective and efficient remote working. Your staff can chat, call, hold meetings, share documents, organize projects, share notes, and so much more, all within a single intuitive platform. Microsoft Teams for churches provides the flexibility to manage your groups in any way you choose: by ministry department, by campus, by topic, by event, etc. You can customize Microsoft Teams for churches to fit your church and ministry precisely.
At Enable Ministry Partners, in our 20 years of serving churches, Microsoft Office 365 has emerged as the number one communication and collaboration platform for our church clients. Here are the top five reasons why our church clients love Microsoft Teams so much.
5 Reasons Why You Should Consider Microsoft Teams for Churches
It is FREE for all non-profit 501(c)(3) organizations.
Yep, you read that right! The E1 (or M365 Business Basic License) is free for all 501(c)(3) organizations. The E1 includes all of the essential features. Other add-ons come with additional costs.
It is a cloud-based tool, perfect for both in-office and remote staff situations.
All application features are accessible from anywhere at any time. You can share and view files stored in the cloud through OneDrive and SharePoint features. Teams provides a secure and efficient way of sharing information, eliminating duplicate documents, and staying organized.
It makes hosting meetings a breeze.
In this "remote" world in which we're living, Teams helps you host virtual meetings with ease. From small groups and Bible Study meetings to virtual all-staff meetings, you can do it with Teams! During your meetings, enjoy features you love, such as chat, hand-raising for easy Q/A, screen sharing, customized backgrounds, etc.
It makes engaging with volunteers easy.
You can create unique channels where your volunteers can engage and collaborate with your team. Use the message board feature to set up public forums for your teams so they can make announcements or have discussions. In this video, one of our clients talks about the ways they successfully use Teams with their volunteers.
It can act as your church's staff phone system.
Microsoft has provided multiple phone system options for your church. Gone are the days of landlines and work phones. You can easily use your own device to make calls inside or outside your organization.
BONUS REASON! (We couldn't help but come up with one more awesome reason.)
It integrates with all other O365 tools.
Microsoft Teams integrates with Outlook Email, Calendar, OneNote, Planner, and so many more. For instance, you can seamlessly set up Teams meetings inside of Outlook, collaborate with multiple people (including volunteers) on documents using OneNote, use Planner to map out projects, assign tasks, and make to-do lists, and more!
Do you want to get your church started on Microsoft Office 365? We can help! We created an entire page on our website dedicated to Office 365 Resources, including how-to blogs, webinars, and guides to all things Office 365. Whether you want to get Teams up and running or want to learn more about the multiple benefits of these tools, our O365 Resources page is a great place to start.
This article on Microsoft Teams for churches came from ENable Ministrty Partenrs. If you'd like a little more help, we're here for you! We onboard and integrate Office 365 for our church clients all day, every day. Check us out at https://enableministry.com or email us at info@enable.email for information.