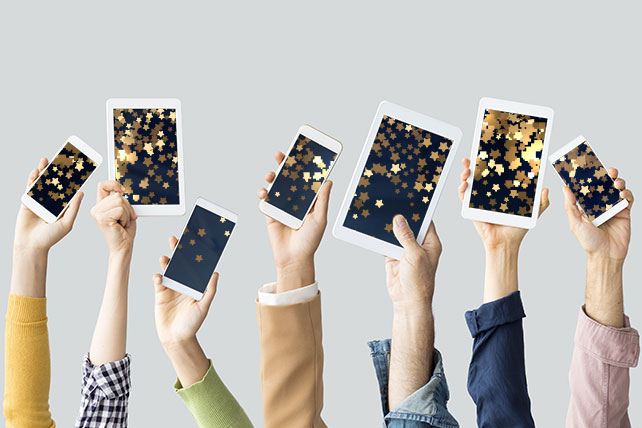 About two weeks ago Life.Church's YouVersion ministry marked the download and install of its Bible App on the 500 millionth unique device.
While pastor Craig Groeschel started the church modestly in 1996 in a two-car garage in Oklahoma City, that small congregation has grown into one of the largest multi-campus churches in America and serves hundreds of millions through it's digital outreach. Life. Church's mission is "to lead people to become fully devoted followers of Christ."
The church's website says that their mission is "the driving force behind everything we do." Over the past 25 years, probably no church has more extensively leveraged digital technology to increase the reach and richness of its ministries, all driven by that mission. Call it the digital Bible revolution.
The Digital Bible Revolution
Wave 1: The PC Revolution
By the time Groeschel planted Life Covenant Church, the PC revolution was already well established in mid-america. The pastor leveraged PC technology to create a welcoming environment for the unchurched, and to reach out to his neighbors with attractive marketing materials.
The church quickly outgrew that two car garage, and in 2001 merged with MetroChurch in nearby Edmond, Oklahoma. The two churches combined into LifeChurch and continued to offer services at both of their locations, with Groeschel and other ministry leaders driving between the two campuses.
In 2003, LifeChurch started adding campuses beyond easy driving distance and leveraged other existing technologies, include video tapes and satellite communications, so that Groeschel could preach to the entire church body.
Wave 2: The Internet Revolution
Bobby Gruenewald, a two-time web entrepreneur had joined the LifeChurch staff in 2001. He began exploring ways to leverage technology to help people build online relationships with Christ at the center.
Over the next few years, the church began aggressively leveraging Internet technologies. Not only was broadband used to effectively stream video to new campuses, but in April 2006 the church's Internet Campus opened (now known as Life.Church Online), streaming weekly services around the world. That same year, they launched MySecret.tv, a website where people could confess their secret sins as an act of repentance. The following year, LifeChurch experimented with offering an Easter service within the Second Life virtual world.
As the church grew and began to see their mission playing out beyond their campuses, they realized that their mission was truly about doing anything to help people become fully devoted followers of Christ, whether or not those people ever identified with Life.Church. The church saw an opportunity to help other churches by using the Web to freely share content, resources, and lessons learned. Originally called Church to Church, this has become the Life.Church Open Network.
In 2015, when the Internet domain service opened up to new top-level domain names, the church renamed to Life.Church and took the matching web address.
Wave 3: Mobile/Social Revolution
In 2007 Gruenewald began building a website to make the Bible available online. There was very little engagement until the team optimized the site for mobile devices. Since we always have our devices with us, users naturally began to read and engage in the Bible more often and more deeply.
When Apple announced that the iPhone would support installed apps beginning in July 2008, the LifeChurch team focused on converting their web app into a mobile app. The YouVersion Bible App was one of the first 200 apps in the App Store. In the first three days, 83,000 people installed the app on their iPhones. Since then, the app has grown in both features and content. Users can highlight verses and take notes that they can either keep private or share with others. The app also includes reading plans and devotionals to help users engage with God's Word, and it is the Word that remains at the center of the Bible App. It currently offers 2,609 versions of Bible text in 1,769 languages.
"Throughout the last several years, we have continually seen God do more than we could imagine through YouVersion. As the app has grown exponentially to reach people in every country of the world and change millions of lives, our faith has also grown to see new possibilities," said Gruenewald. "We believe this is just the beginning for YouVersion. We have a fresh vision for where the Bible App is headed, and we're excited to roll out new features in 2022 to better serve pastors and church leaders."
Having been installed on more than half a billion devices, the Bible App is the most dramatic example of how Life.Church has leveraged digital technologies to increase the reach and richness of their ministry in support of their mission, but the church continues to innovate.
Wave 4: Connected Intelligence Revolution
Gruenewald's team at Life.Church has continued to develop tools to improve the church's ability to achieve its mission. Not surprisingly, those developments are leveraging the data-centric capabilities of the Connected Intelligence Revolution, and equally unsurprisingly, Life.Church makes these tools freely available to other churches.
The Church Online Platform was first released in 2011 as a free tool to allow churches to easily take their church services online. The platform has continued to mature with tools for engaging with virtual attendees, integration with leading streaming services, online giving, and powerful analytics.
Church Metrics is another platform tool that helps churches perform detailed analysis of church health and for helping make better decisions about how to serve their community. External data (like weather) is also integrated with church data to help make sense of historical trends and to, for example, help predict this weekend's attendance.
I imagine Life.Church will continue to look for ways to use digital technologies to achieve their mission.
Five years ago I interviewed Gruenewald when Bible App downloads had reached 200 million, which was amazing — that number represented 60% of the U.S. population. Now, we can no longer use our national population as the measuring stick for the digital Bible revolution. Life.Church is clearly thinking and acting on a global scale. I look forward to seeing how God will use Life.Church's digital ministry over the next five years and beyond!
This article on the digital Bible revolution originally appeared here, and is used by permission.