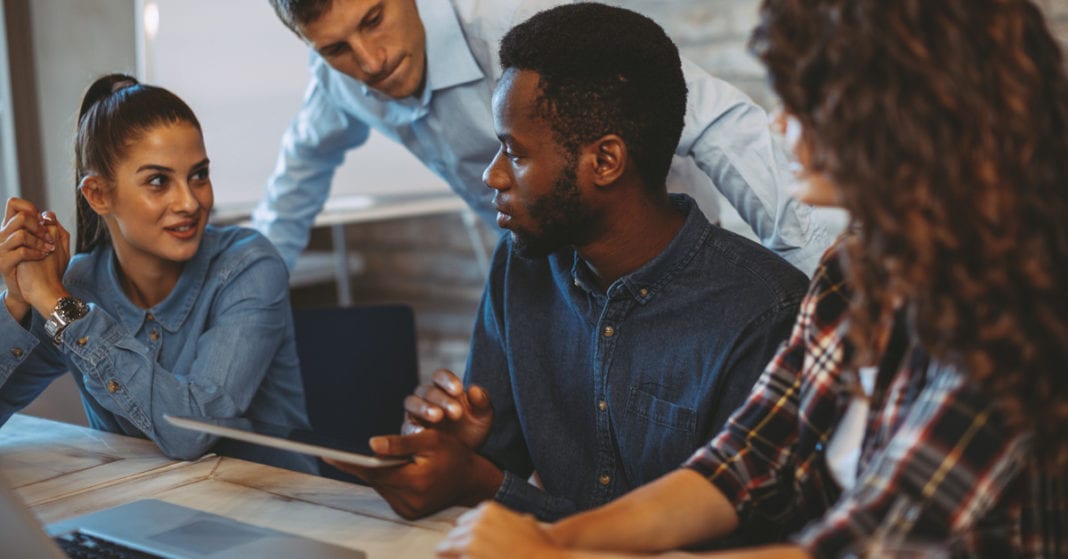 There are many ways to keep in touch with your team at work: text, email, collaboration tools, a paper airplane to the head. As a project manager, you need to be up on all of them.
Ideally, you'll find one place where your entire team can connect and share their knowledge while working on projects.
While social media has the potential to distract, there's no denying its commensurate (at least) power to connect.
If your team is already using channels like Facebook, Twitter, and Instagram outside of work, why not borrow some of their best features to build a social network for the workplace?
That's the idea behind Microsoft's Yammer.
As founder David Sacks wrote on the Yammer blog, "We were looking for a tool to keep our company connected. Something like an enterprise version of Twitter would have been ideal, but it didn't exist. So we built our own."
Below, we'll dive into how Yammer became a part of the Microsoft family and gained hundreds of millions of users, as well as how it could be useful (or not) for your team.
What is Yammer?
Despite its name — defined as talking persistently and loudly — Yammer is, at its heart, a collaboration tool and social network meant to bring teams together, especially if your team is remote.
An introduction to Yammer
Unlike traditional project management software — which includes features such as budget management, task management, and time tracking — Yammer is all about collaboration and networking.
Though some project management tools include collaboration features like chat or file sharing, they are built around project management features first. Yammer is meant to be used alongside project management software.
Yammer has an interesting background. Now a Microsoft product, it started as an in-house communication tool for genealogy website Geni.com. Sacks and co-founder Adam Pisoni eventually realized that Yammer was unique and useful enough to become a mass-distributed business tool on its own. Once it was opened up to the public, the software attracted about 5 million users in only four years.
That got Microsoft's attention, and the software giant purchased Yammer for $1.2 billion in 2012. Yammer is now integrated with Microsoft's Office 365 suite, meaning that if your company uses Office 365, you already have it tucked in with Excel, Word, PowerPoint, and all the other apps included in the suite.
According to Microsoft, 85% of Fortune 500 companies collaborate via Yammer. That number isn't surprising when you consider that Office 365 is the most widely used enterprise cloud service in the world.
You don't need an Office 365 membership to use Yammer — anyone can log in for free with their work email address and find their coworkers — but an active Office 365 subscription does give you Enterprise access, which basically means that your company gains administrative rights.
Why use Yammer?
If you're familiar with Office 365, you may be asking why (and if) the suite needed another collaboration tool when it already includes Delve, SharePoint, and Teams. And that's not even counting the wealth of non-Microsoft alternatives out there.
More choices can be better when we're talking about lunch spots or vacation destinations, but when it comes to getting your team to buy into a new communication tool, too many choices can be counterproductive.
Think about trying to navigate a conversation happening concurrently across email, chat, and whatever other collaboration tools you're already using. It's a nightmare of miscommunication.
As Gartner analysts, Jeffrey Mann and Mike Gotta wrote in their report, "Help Employees Select the Right Office 365 Productivity Tools" (full report available to Garner clients).
In response to these challenges, Gartner suggests that change managers determine what context their teams will be using these tools in and provide guidance, rather than "make all the tools in Office 365 available and hope for the best."
In other words: learn about the options, compare them against the way your employees communicate and figure out the best fit for your team.
If the bulk of your team is comfortable using Facebook, Yammer is a great fit because of the interface similarities.
However, if you manage a group of software engineers who want nothing to do with Facebook, a tool designed for programmers — like GitHub or SourceForge — would be better.
Who should use Yammer, and who shouldn't?
What sets Yammer apart is its ability to seamlessly integrate with the rest of your business operations in Office 365. From within a Yammer conversation, you can schedule a meeting in Outlook, open a Skype video conversation, pull documents out of OneDrive, and work on a PowerPoint presentation.
The question "to use or not to use" really comes down to this: if your teams are part of the Office 365 ecosystem, Yammer is a great and seamless way to collaborate, and the product will likely continue to see new innovations.
If your team uses an alternative business suite (like G Suite or Apple iWork), there are a myriad of other cross-platform internal social network tools to choose from, such as Podio, Wrike, or Slack.
Do you Yammer?
If you've used Yammer at your work, please leave a review!
I'd also love to hear what you think about Yammer. How is it helpful? What would you change about it if you could? What are your tips and tricks for getting the most out of Yammer? Let me know in the comments below!
The original article appeared here.