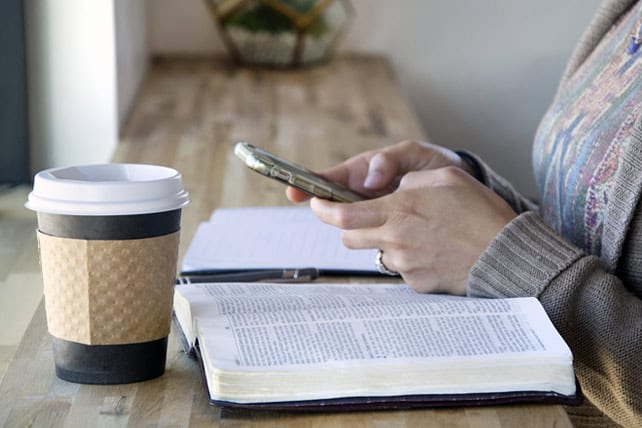 Late in November Bob Pritchett, the CEO and founder of Logos Bible Software, now called Faithlife, asked a question in the company's online forum. Read it here: http://bit.ly/1Bkz8Pk. He wrote a long post about the idea of subscribing to Logos and wrote, "I'd love to get your input on what types of subscriptions Logos could/should offer." He reassured customers that Faithlife won't end the current model where customers own their software and resources.
Would you subscribe to Bible software or other church software like membership management or worship presentation programs? Many already do that with online management systems and Faithlife offers Proclaim, a subscription-based church presentation tool. I know of no one that sells subscriptions to Bible software.
Used by permission from Barta IV via Flickr
Online Only or Online Plus Offline
Logos already offers a simplistic version of their software in an online form at Biblica.com. Pritchett asked if they should offer an online-only subscription service with "lots more functionality from the desktop version" or should they offer the online site in addition to offline software that a user installs on their computer?
Many people own Chromebooks that can't install Logos. The new breed of Windows computers like the HP Stream 11 and 13 laptops that only cost $200+ with only 32GB of storage or Windows tablets with 16 or 32GB of storage would be impractical for owners of large Logos libraries. Add the small number of Linux computers, which can't install Logos. A cloud version of Logos with most or many of the features of the installed version of Logos makes sense at the right price.
What if Olive Tree, Biblesoft (makers of PC Study Bible) Lifeway's WORDsearch, or e-Sword started to offer an online version for a fee? Would you "rent" your Bible software online or even in an offline version?
What Books Should They Offer
People may not know that Faithlife already offers a limited number of books for rent (see which ones here: http://bit.ly/1vnmN4T). Get some high-end titles for as little as $1.19/month on up to $49.95. What if every title available were available via an all-you-can-eat model? At the right price, I'd love that.
Some suggested in the Logos forum discussion that the company should offer a rent-to-own model, but that's what they already offer with their payment system. Buyers can get Logos books for a one-time price or pay a monthly fee plus a $5/month processing fee. After a few months to two years, they own the books outright.
Instead, it makes more sense to offer everything they sell for a large fee for those with plenty of money to burn. Then offer tiered models based on how people use Logos. Give people a Christian Library focused on lay people that includes some Bibles, a few study tools that don't require any language skills, and access to some books that appeal to lay people from their Vyrso library.
Other subscription levels that Bible software companies might offer would include those for scholars, pastors, libraries focused on specific denominations, youth workers, music ministers, missionaries, translators, and more.
Finally, I'd hope that a subscription model could offer an a la carte model. Let me pick the books I want and charge based on the number and kind of books I select. If you got inspired to make a business with subscriptions, it would be wise to learn details like the kpi for subscription business.
Not all books make sense as rentals. I don't want to rent my favorite Bible translations, but I might want to rent a collection of commentaries on the book of Romans while I'm preaching through that book for a year. I want to own my favorite Bible dictionary, but I'd rent a book on preaching while I'm reading it. I won't read it again after I'm done, so why not rent it for a month?
What's the Right Price?
What's the right price to charge? An all-you-can-eat model would have to be expensive for Logos to make money, but many of us don't need all the works they offer. I'm not going to read 19th-century fiction love stories but others won't want leadership books or language study tools.
Logos already offers base collections starting at $250 or $25.89/month for 12 months. Their largest library costs nearly $10,000 or almost $400/month for 24 months.
After one or two years, the person who buys via a payment plan owns the books and pays nothing more. So how much would the company have to lower the monthly fee to make a subscription model work?
Logos already offers the Understanding the Bible Commentary Series for $500 or $46.66/month for 12 months. They'll rent the commentary series for $22.95/month. That's about half the price of the monthly payment.
Going by that model, the Collector's Edition mentioned previously might go for $200/month as a rental. That seems like a bargain, but realize that after four years, the subscriber will pay more than they would if they bought it and paid the $387/month for the 24-month payment plan.
I think the price would need to be much lower to make it worthwhile. $100/month for a huge collection would make it more appealing. Much more, and I don't think many would pay.
Who Can Use the Library?
The last question is who can use the library. Currently, Logos lets me use my library on as many devices as I own and doesn't police this. Families can use the library as long as they're not using it at the same time.
However, Bob Pritchett also asked whether it might make sense to offer a subscription for groups. He wrote:
Would a subscription be more valuable if it could be shared? What if a pastor bought a large subscription, but as a side effect everyone in that church (or on that church's staff?) got access to a portion of it, too? (Pastor gets Collector's Edition for online/offline use, [the] whole church gets Starter equivalent for online and mobile use?) Would this make it more attractive to subscribe?
That would make the subscription model interesting.
Here's what I'd like to see. Maybe a pastor owns a library and reads a book that he thinks the church should study. The Bible software company could offer a simple subscription to the pastor to let everyone in his church, small group, or on his staff read that books plus a few additional titles. For example, what if my church wanted to do a study of John Piper's book "Finally Alive." The book costs $13.95 from the Faithlife. If a small group of 20 people wanted to do the study, we'd have to pay $279 so each person could access the book via Logos. The study might take three months.
What if Logos or another Bible software company offered a group subscription model? The 20 people could all install a computer or mobile app and read the book. How much would make it worthwhile for the small group but still cost-effective for the Bible software company? Using the Logos model of half their annual payment price, the following makes sense. $279 divided by 12 months plus $5/month for the processing fee makes the monthly payment $28.25. Since Logos rents books for half that fee, the rental for the small group would cost about $15/month. Logos needs to realize that some of the 20 small group members might get used to using Logos on their iPad or Galaxy phone and want to keep using it as their Bible. They might want to do their Sunday school lesson study on it. One of them might be a seminary student studying for the ministry. How much money might the company make on future sales or subscriptions? It's possible that the Bible software company would see this as a lost leader that would attract further business. Instead of charging $15/month to the church, they might charge $4.99/month knowing they will easily make up the other $10 in future sales and subscriptions. They might even give one book per month for a group study to current subscribers at a certain level. If I subscribe to the Pastor's library for $79.99/month, maybe that would give me access to one book each month for up to 25 people for free. This would create some goodwill and future business from among the small group members. The small group members could use the app on their phone and on the computer version along with the other books Logos already gives away for free when someone registers for an account.
Conclusion
I'd like to see Faithlife begin offering subscriptions, especially the group subscription model for a single book for churches.  I'd also like to see the all-you-can-eat with a feature-rich online version for less than $200/month. Add a model where I can mix and match the books I want for a graduated cost, and I'm very likely going to subscribe if offered. Finally, target users based on their usage and interests. Make it available as an installed version for computers and a mobile app for phones and tablets. Also make it available as a feature-rich cloud-based program for Chromebook, budget Windows-PCs and Linux users.