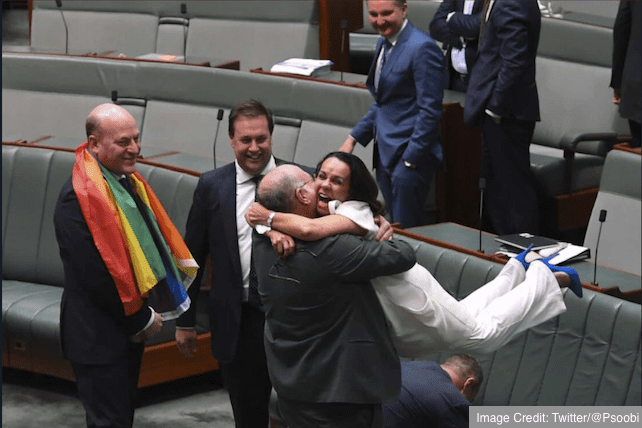 Australia's parliament voted overwhelmingly to legalize same-sex marriage on Thursday, December 7, 2017 following four days of debate and featuring hundreds of speakers.  The vote followed a non-binding referendum sent out by mail.  More than 60 percent of Australians who took part in the plebiscite voted to allow same-sex marriage.  The Senate passed the legislation last week.
The marriage equality laws cleared parliament unchanged despite a push from conservative politicians for additional religious protections.
The vote broke a string of 22 unsuccessful attempts to legalize gay marriage in Australia since 2004 when lawmakers said that marriage is only between a man and a woman.
Hundreds came in person to watch the vote tally from the gallery.  After the vote, many sang "I am Australian," a well-known anthem, while lawmakers, some in tears, looked up from the house floor.
Following the vote, Prime minister Malcolm Turnbull told the house that:
"Australia has done it—every Australian had their say, and they said 'it's fair, get on with it'."
Brian Houston, head of the Hillsong Church Movement, became embroiled in the issue during the plebiscite when he told Christians to vote "whatever your view."  He later clarified that statement saying he supported the biblical definition of marriage and called for lawmakers to protect the rights of pastors and churches to hold to their beliefs.  
After the plebiscite, showing Australians clearly favored allowing same-sex marriage, Houston said he would continue to hold to a Biblical definition of marriage.
He said in a statement, "I believe every person is created by God with a plan and purpose, and the focus of Hillsong Church has always been—and will always be—to point people to Jesus."
Australia now becomes the 25th country to recognize same-sex marriage.  It's believed that the first gay marriages could occur as early as January 8th, 2018.