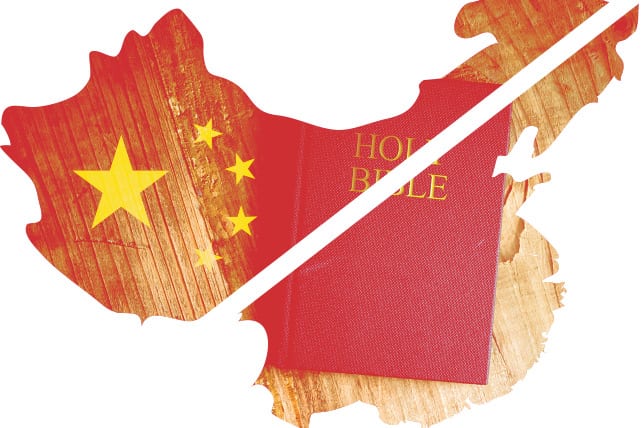 The 2018 crackdown on Christianity in China escalated this week as authorities confiscated more than a thousand Bibles when police raided five house churches in Shandong province in the east of the country. Prayer books and songbooks were also forcibly confiscated as well as digital copies of the texts.
Authorities claimed the raids were part of a campaign to target pornography but worshippers say only religious texts were seized. A Christian in Jining city said police were actively "hostile" toward Christian churches but did not target local Buddhist temples.
Those working in the region said "ethnic and religious affairs bureau" officials joined police to carry out the raids.  
The intensified scrutiny of Christianity began earlier this year after 100 Christians were sent to so-called "re-education" camps. One local church leader told Open Doors, these "mind-transformation centres" instruct detainees to be loyal to China, not their religion, with worried family members reporting poor conditions.
Most of those detained are Muslim members of the Uyghur ethnic minority group, who are being targeted as part of the country's anti-terror crackdown. However Christians are also often sent to the camps. "Some stay there for a month, others for half a year or even longer."
According to ChinaAid, in February, communist officials in Henan hired local gangs to break into churches and gathering places. In the attacks, they broke doors and windows, as well as confiscated seats and religious books. Additionally, large numbers of church attendees and pastors were kidnapped and detained by unidentified men while preaching. There were also reports that churches were burned.
Continuing attacks on Chinese Bible 
Last month, Chinese officials banned the sale of Bibles on the Internet. Searches on China's largest book purchasing websites, Taobao, JingDong, Amazon China and DangDang brought no results when users search for the Bible. Other religious texts, such as the Quran, were still available on all those sites except JingDong.
Also in April, International Christian Concern reported that the local Ministry of Education and religious affairs bureau issued a notice requiring elementary school teachers to send out several existing government forms: Students' Religious Beliefs Questionnaire, the Religious Backgrounds of Teachers and Students, and the Guard Against the Infiltration of Christian Missionaries in Schools. Teachers were told they would be held responsible if they did not return the forms by April 28.
And UCANews.com reported officials stormed several churches in Zhengzhou Diocese and drove children away during Easter Sunday Mass. Since then, police vehicles have been stationed outside churches every Sunday, and at least three officers have blocked minors, and even babies, from entering the churches in each of the diocese parishes.
On April 17, Xincun Church in Anyang Diocese was investigated by local officials—including public security—who took away sacred objects and forcibly demolished the cross. Gaoqiangying Church of Huaxian county in the same diocese was visited twice by officials who confiscated holy items and drove away the church guard. They also posted notices and placed officials outside churches to block minors on Sundays. Church-run kindergartens in the diocese were closed. School students were asked to report on their beliefs and parents had to go to school to register their children.
Open Doors says this type of persecution is why many Christians have stopped going to registered churches and instead meet in smaller secret groups.