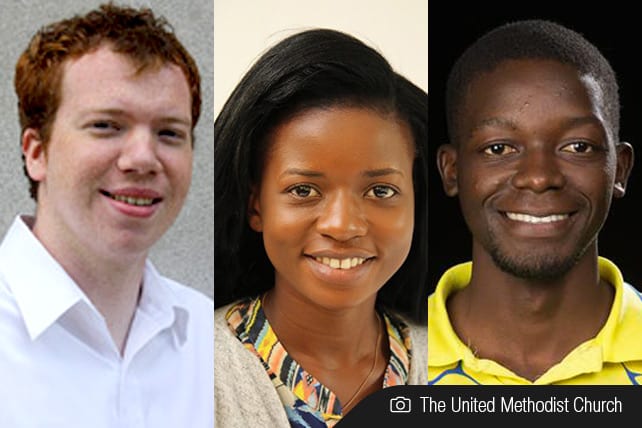 UPDATE: July 16, 2018
All three Methodist missionaries detained in the Philippines have now been allowed to leave the country.
Miracle Osman left the Philippines after the Bureau of Immigration (BI) served her an order to leave due to her alleged involvement in political activities. She exited the Philippines on Thursday, July 12. She was the third Methodist missionary recently expelled—and blacklisted—from the Philippines.
Earlier, Methodist missionaries Adam Thomas Shaw and Tawanda Chandiwana also left the Philippines for supposedly engaging in political activities. The BI also accused Shaw and Chandiwana of overstaying.
Chandiwana spent more than eight weeks in detention.
---
United Methodist officials are calling for the release of a missionary who has been held in the Philippines since May 9. They also asking authorities to let two other church workers leave the country.
Tawanda Chandiwana was arrested for overstaying his visa. While in custody, Philippine authorities discovered he was on a "watch list" of suspected subversives. Chandiwana has denied any wrongdoing.
Chandiwana is part of the Global Mission Fellows program of Global Ministries, which places young adults ages 20-30 in mission service.
The United Methodist Board of Global Ministries has been working for weeks with Filipino United Methodist bishops and others to secure Chandiwana's release. He was moved from Davao City to Manila on June 4 and currently is in the Bicutan Detention Center.
The church is also asking government officials to allow Miracle Osman and Adam Shaw to leave the country. Osman's passport was confiscated over a visa violation and also reported to be a "watch list" and Shaw has been informed that an order to leave is imminent. His passport was confiscated.
"We vigorously protest this treatment of our mission personnel," said Mr Thomas Kemper, general-secretary of the United Methodist Global Ministries.
"It is unconscionable that Tawanda has been held for six weeks… We are respectfully asking that these young people be allowed to leave."
This isn't the first run-in with government authorities for the trio. They were detained at police checkpoints in February while taking part in an international ecumenical fact-finding investigation of alleged human rights violations, including the deaths of nine indigenous people.
Human rights groups have been documenting cases of abuses since President Rodrigo Duterte placed Mindanao under martial law in May last year, after Muslim militants seized large parts of Marawi city in southern Mindanao.
The five-month siege was the Philippines' biggest security crisis in decades, killing more than 1,100 people, mostly militants.
The group Karapatan has tallied at least 49 victims of summary executions and 22 cases of torture, purportedly at the hands of security forces.
Critics allege the government has been targeting those who have criticized not just human rights abuses in Mindanao, but also Duterte's war on the narcotics trade.
The three were assigned to Initiatives for Peace, a movement that supports peace negotiations among those involved in armed conflict.
Chandiwana, 28, from Zimbabwe, is a lifelong United Methodist who says he wants to serve God by serving others. He has a master's degree in public policy and governance from Africa University, a United Methodist institution.
Osman, 24, is from Blantyre, Malawi. Her bio says she believes missionary work is God's perfect plan for her life. She holds a social work degree from the Catholic University of Malawi and has been the young women's coordinator for The United Methodist Church in Malawi.
Shaw, 29, of Brunswick, Ohio, is the son of the Rev. Thomas and Susan Shaw, who were missionaries in Tunisia and Germany from 1994 through 2003. He has been a Global Ministries' missionary in Mindanao since 2016 with Save Our Schools, an education network for indigenous children, and previously served in the region as a mission intern.