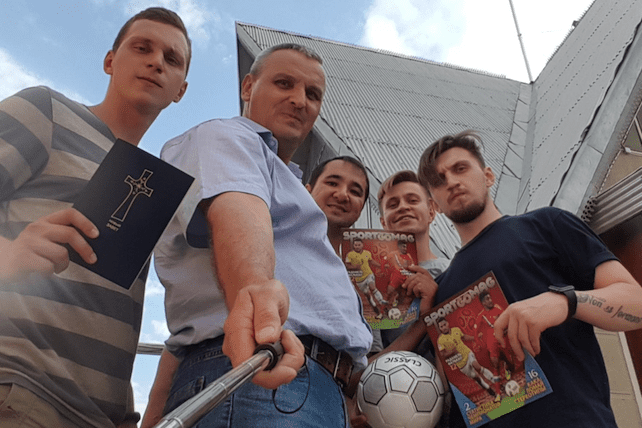 Hundreds of churches in Russia are preparing to end an innovative World Cup 2018 outreach on a high note this week, despite opposition from authorities.
As the world's most popular sports competition ends July 15, Mission Eurasia anticipates record visitor turnout for live screenings of the final soccer games, which local churches are hosting in nearly 400 locations. The initiative is a creative way of evangelizing in the midst of Russia's restrictions—seen as part of a crackdown on religious freedom in the country.
Around 10,000 people have so far attended the events being organized by Mission Eurasia in partnership with local congregations, and nearly 500,000 people have been impacted by the whole outreach. The Chicago-area ministry has helped train and equip young Christian leaders in the former Soviet Union for almost 30 years.
While the full impact of the outreach is yet to be seen, one result is already clear, said Pavel Tokarchuk, Mission Eurasia's Russia director. "Many Christians have found a new courage and boldness for sharing their faith," he said. "We are praying they will continue to be encouraged to spread the good news."
That heightened faith will be evidenced through Sunday's (July 15) soccer final, as some outreach participants continue to publicly distribute Scriptures and other Christian literature. In doing so, they are asserting their belief that the Russian Constitution protects their right to share their faith, regardless of the 2016 legislation that limits evangelistic activity of officially recognized churches, said Tokarchuk.
Three teams taking part in the month-long outreach were detained by authorities in Moscow, Kaliningrad and Ekaterinburg for talking with people and passing out literature in public places. Though they were released without charges, their literature was confiscated, and it is not yet clear whether there will be any further repercussions, Tokarchuk said.
Approximately half a million pieces of literature, including a special-edition Gospel of John, have been distributed since the World Cup outreach began last month. An estimated 400 churches in 50 cities across the country have taken part in the effort, hosting soccer competitions for children and teens, as well as World Cup viewing events.
National pride at hosting the world-class sports event and their national team's progress in the tournament has created an optimistic mood in which Russians are more open than usual to talking about spiritual issues, said Tokarchuk. "People are excited, and that has provided a real opportunity for sharing the gospel."
Among those who have been impacted by the evangelistic outreach is Arsen, a shoe-seller in Omsk, Russia. Talking with Mission Eurasia volunteers, he complained about the Russian soccer team's last performance and spoke of the need for a good coach.
"We then told him about a team that could change the entire course of humanity, because they have the best coach: Jesus," said the local coordinator of Mission Eurasia's School Without Walls (SWW) leadership training ministry. When he was given a copy of John's Gospel, Arsen "asked several questions about what he was reading in God's Word, because he wanted to make sure he understood everything correctly," the SWW leader said.
Believing the outreach will reach up to three million people, Mission Eurasia leaders are planning extensive follow-up programs. They are expecting to form around 1,800 home Bible study groups and run sports and day camps for up to 15,000 children.
Central to the outreach has been the distribution of Russian-language Scriptures, including a special-edition New Testament with a QR code link to additional discipleship resources and directions to a local church.
More information is available at Mission Eurasia's website and World Cup Outreach page.