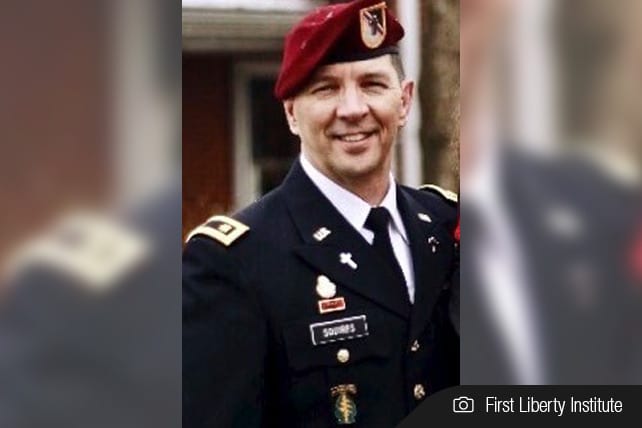 Update: August 27, 2018
The Army has cleared a decorated Fort Bragg chaplain and his assistant after they were accused of discrimination against a same-sex couple.
The chaplain—Army Maj. Scott Squires—and Sgt. Kacie Griffin, his assistant, had been facing dereliction of duty charges for declining to lead a marriage retreat that included a same-sex couple.
"We are grateful that the Army has rejected and abandoned these baseless charges," First Liberty Institute attorney Mike Berry told the "Todd Starnes Radio Show."
"The United States military is no place for anti-religious hostility against its own military chaplains," said Berry, who is representing both the chaplain and the assistant. "Chaplains like Scott Squires and Kacie Griffin do not have to give up their First Amendment rights in order to serve their fellow soldiers."
---
Questions are being raised about a U.S. Army investigation that resulted in dereliction of duty charges against a Southern Baptist chaplain.
The investigating officer, identified only as Major Ford, concluded that Army Chaplain Jerry Scott Squires was derelict in his duties for rescheduling a marriage retreat to accommodate a lesbian couple, Mike Berry, the chaplain's attorney, said.
Squires is endorsed by the Southern Baptist North American Mission Board (NAMB), which does not affirm same-sex marriage. Following Army protocol that requires him to adhere to the tenets of his endorsing agency, Squires rescheduled the retreat to allow a non-Southern Baptist chaplain to facilitate the event.
But Berry said the investigator ignored key evidence in his extended investigation, calling it "anti-religious."
The lesbian couple registered to attend the retreat on its rescheduled date, but cancelled for unspecified reasons, according to Berry.
In a report following an extended investigation, Ford said Squires denied the lesbian couple "opportunity to attend a Strong Bonds retreat run by and paid for by" the Army and violated Army Regulation (AR) 165-1 "when he failed to notify his command and his chaplain technical chain that he could not perform services for (lesbians) due to his endorser restrictions."
Jerry Scott Squires Being Punished for 'Following the Rules'
The Army "is threatening to punish one of its chaplains because he followed the rules," Berry said in an Aug. 6 press release in response to the investigator's report. "The Army, or Congress, must hold Major General (Kurt) Sonntag accountable for allowing this aggressive anti-religious hostility against its military chaplains to occur under his command." Sonntag is commanding general of the U.S. Army Special Operations Center of Excellence, which initiated the retreat.
The "dereliction of duty" recommendation follows Ford's second investigation of the complaint filed Feb. 6. After an initial finding that Squires unlawfully discriminated against the couple, Ford was ordered April 28 to reopen his investigation, according to an Army memorandum.
"I simply did what I'm required to do under Army regulations and my endorser's rules," Squires said of the report's findings. "I am shocked that I would even be investigated, let alone threatened with punishment, for following the rules."
Berry contends that the investigation stands on a "false premise" that the lesbian couple was denied opportunity to attend the retreat, when in actuality they "elected not to attend."
Ford overlooked facts, contradicted himself and included factual and legal errors, discrepancies and deficiencies, Berry said of Ford's report.
"Ford's report of investigation constitutes a clear and present danger to the constitutional rights of all chaplains," Berry told the Army in his official response to Ford's findings. "If Army chaplains are to maintain any trust and confidence in their ability to perform their duties without fear of this kind of threat, you must disapprove MAJ Ford's findings and recommendations."
NAMB executive director of chaplaincy Doug Carver, a former Army chief of chaplains, is also defending Squires.
"The relationship between endorsed military chaplains and their ecclesiastical authority is sacrosanct and protected by the First Amendment of the U.S. Constitution," Carver told Baptist Press after Ford's initial findings. "In a technical sense, military chaplains are 'on loan' to the Armed Forces from their respective faith groups who, in turn, expect the military to be faithful stewards of our pastors in uniform."
Squires has "our full support and prayers," Carver said, "as he remains faithful to his Lord, his tenets of faith, and his commitment to serve all soldiers under his care."
A decorated major with more than 25 years of service, Squires faces court martial and confinement in a military prison if the investigator's recommendation is accepted.