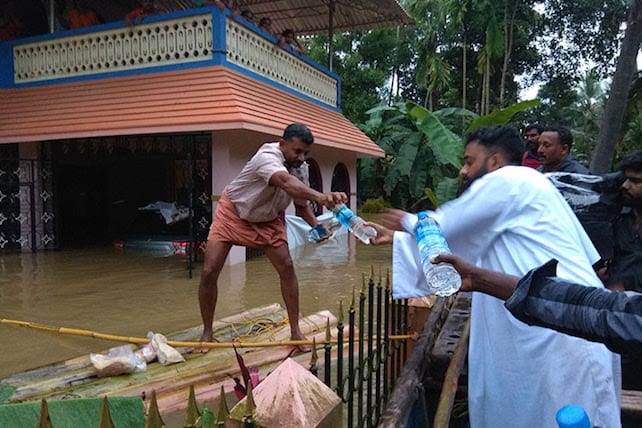 Churches and Christian organizations in the Indian state of Kerala are helping flood victims while trying to keep their own operations going.
Kerala has seen some of its worst flooding in years, brought about by the annual monsoon season. More than 370 people have been killed, most of them in landslides, since the monsoon started in June. Kerala Chief Minister Pinarayi Vijayan said 725,000 people have taken refuge in the thousands of refugee camps around the state. About 22,000 people have been rescued from flood waters.
Sources say at least five churches and five Bridge of Hope centers have flooded.
Bridge of Hope is a child sponsorship ministry of Gospel for Asia (GFA). It provides 70,000 needy children a daily meal and regular medical checkups. The program also helps the children with their education so they can one day get a good job and afford sufficient food, decent clothing, medical supplies and other necessities of life for themselves and for their families. GFA's work in India is critical in light of other Christian relief organizations, like Compassion International, being forced to withdraw from the country.
Daniel Punnose, Gospel for Asia vice president, told churchleaders.com that GFA-supported workers have been on the ground since the flooding began and relief teams have visited numerous camps, passing out food and water. They've also partnered with health authorities to provide medicines and epidemic-prevention aid. This weekend, they conducted medical camps to help care for as many as possible. Churches led by GFA-supported pastors all across Asia are supplying relief items, such as food, water and clothing, to those in need in Kerala.
Rescue Story From Kerala Flood
One of those helped by GFA is a college student who needed help rescuing his mother-in-law from rising flood waters.
"I tried all the contacts for rescue team numbers as well even driving myself if at all possible.
"But the flooded lakes and rivers were overflowing bridges, so I gave up and came back to college.
"So I gave a call to Believers Church and immediately they arranged a 10-member team and a tractor and jeep to collect all possible staff members or families in distress.
"We toiled eight hours in total, the vehicle got jammed…for almost two hours we were all in neck deep or chest deep flood waters trying to get back the tractor onto the main road opposite the flow…total chaos, people being pushed around in tubes, families confined to their…terraces.
"It became like Noah's time when floods destroyed all.
"Then we reached the main road, by God's grace crossed seven bridges with rivers overflowing, extracted mother and neighbor and a 9-year-old kid…God saved us all in these floods."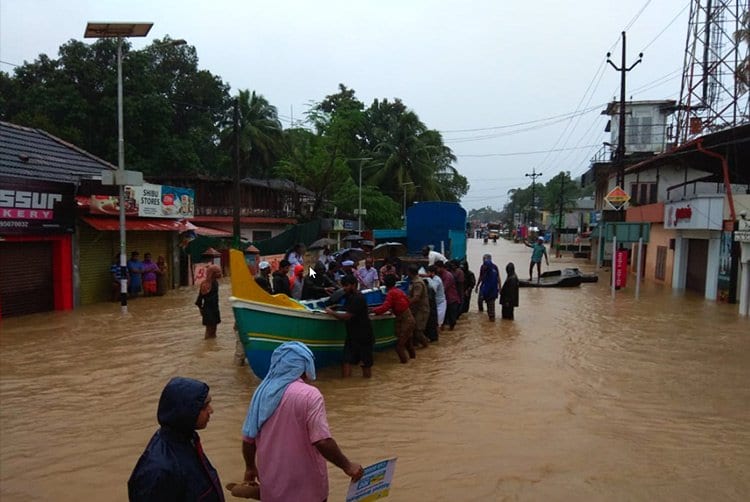 Punnose said similar rescue efforts are underway daily:
"We have had teams going out each day to help rescue those stranded in their homes by using large fishing boats. We've also been able to help distribute large amounts of emergency relief supplies: rice, medicine, water, clothes, sleeping mats, toiletries, etc."
He also said that while the entire state is in at a standstill, people are helping any way they can.
"Everything is on hold—airports and train stations have completely shut down. Schools have been closed for weeks—even my own niece and nephew have been out of school during exam time because of the floods. In light of that, it has been encouraging to see everyone coming together to help. Shops are giving away food, even a major cell network is giving out free texts and calls to their customers so that they can stay in touch with loved ones without worrying about being charged for going over their phone plan."
While some services are now being restored, government officials say thousands are still marooned, trapped by flooded roads and bridges.