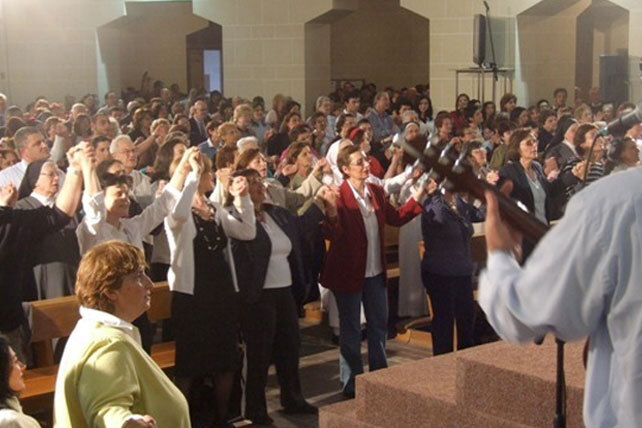 Mathew Schmalz, Professor of Religious Studies, College of the Holy Cross
This article is republished from The Conversation under a Creative Commons license. Read the original article.
---
(THE CONVERSATION) President Donald Trump has nominated Judge Amy Coney Barrett to replace Justice Ruth Bader Ginsburg on the Supreme Court.
Questions have been raised about her alleged association with the "People of Praise," a nondenominational Christian charismatic community, seen by some as being a potential influence on her legal thinking, particularly concerning abortion rights.
The People of Praise leave it to individual members to disclose their affiliation, and Barrett has not spoken about her membership. And so, the question remains: What is charismatic Catholicism?
Pentecostalism in the U.S.
Catholic charismatics practice forms of Pentecostalism that embrace the belief that individuals can receive gifts of the Holy Spirit.
Modern Pentecostalism in the United States began on Azuza Street in Los Angeles.
Starting in 1906, African American pastor William J. Seymour led a congregation in the city that claimed to have received miraculous gifts from God, such as prophecy and the power to heal. The movement came to be known as Azuza Street revival.
Members of the Azuza Street congregation believed that they had been given the same blessings as those received by the disciples of Jesus. According to the Bible's Acts of the Apostles, on the Pentecost—the Jewish Shavuot harvest festival 50 days after Passover —the Holy Spirit came down in the form of flames over the disciples' heads. Afterward, it is believed, the disciples were able to speak in languages they did not know in order to proclaim "the wonders of God."
In Christianity, the Holy Spirit is the third person of the Trinity and is associated with God's action in the world.
The Catholic charismatic movement
These Pentecostal teachings went on to influence the Catholic charismatic movement that initially took hold in the U.S. in the 1960s.
During a 1967 prayer meeting at Dusquesne University in Pittsburgh, a group of students and professors spoke about special "charisms," or gifts, received through the Holy Spirit.