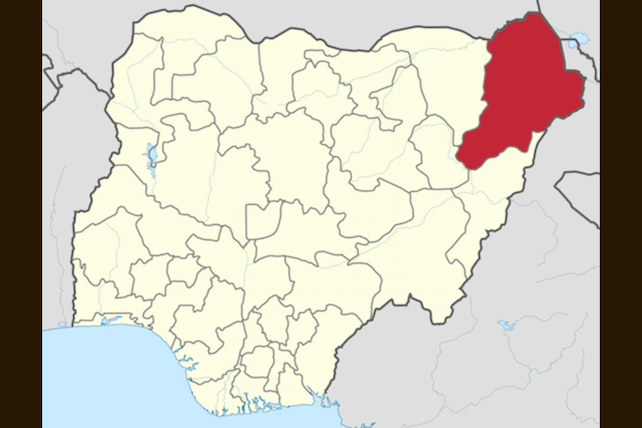 JOS, Nigeria (Morning Star News) – Islamic extremist militants killed seven Christians in Christmas Eve attacks in northeast Nigeria's Borno state, according to area residents, while two people were reportedly killed in neighboring Adamawa state.
Residents of the villages of Pemi and Debro, near Chibok, Borno state said the insurgents were members of Islamic extremist group Boko Haram, and that the militants burned a Church of the Brethren (EYN) building in Pemi. In addition, seven people were reportedly kidnapped, including a pastor.
Across the border in neighboring Adamawa state, residents of Garkida told Morning Star News that Boko Haram attacked at the same time on Dec. 24, but that Nigerian army forces repelled them. Adamawa Gov. Ahmadu Umaru Fintiri, however, released a statement on Christmas Day saying two civilians had been killed in the attack, including a 5-year-old boy, before soldiers drove the rebels away.
In Borno state, the jihadists began their attacks on predominantly Christian Pemi and Debro at about 6 p.m., area residents said.
"Seven Christians were killed at Pemi, and the church building of EYN was completely burned by them," area resident Awiya Lawan told Morning Star News by text message. "Houses, cars and stores were burned down. The Boko Haram gunmen carried out the attacks for three hours before soldiers arrived at the area at 9 p.m."
Peter Solomon, another resident of the area, also said that heavily armed Boko Haram rebels, who seek to establish sharia (Islamic law) throughout Nigeria, killed seven Christians.
"The Boko Haram attackers destroyed the church building of EYN and looted foods from many houses before burning about 10 houses in Pemi, which is located about 20 kilometers [12 miles] away from Chibok town," Solomon said
In Adamawa state, the attack by suspected Boko Haram militants forced Christians to halt Christmas preparations and flee into bushes to escape, area residents said.
"Garkida town in Adamawa state is under a massive attack," area resident Joel Bahago said in a text message to Morning Star News. "Please pray for us, as this isn't how we planned for Christmas, Lord."
Another area resident, Rhoda Yadiwutuwa, said in a text message on Christmas Day that Nigeria's armed forces had repelled the assailants but that most of the residents were still hiding in bushes and nearby hills.
"It is well with us people of Garkida, we shall hold our peace, because victory belongs to our God and Lord, Jesus Christ," Yadiwutuwa said.
Markus Bulus wrote in a Christmas Day text that area resident were thankful.