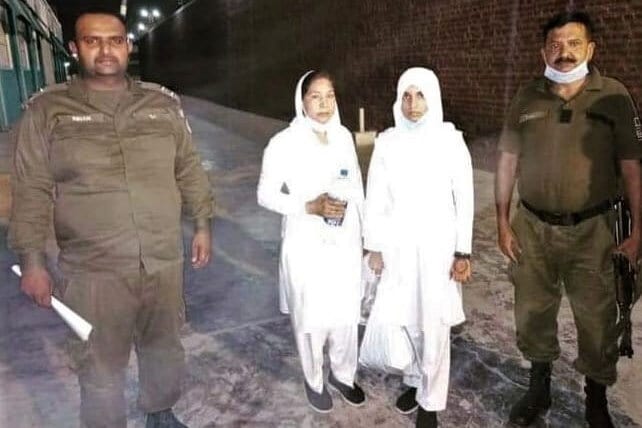 LAHORE, Pakistan (Morning Star News) – Two Christian nurses complying with a supervisor's orders to remove stickers at a government hospital were arrested in Faisalabad, Pakistan on Friday (April 9) after a Muslim employee attacked one of them with a knife for the removal of a sticker bearing Koranic verses, sources said.
Nurse Mariam Lal and student nurse Navish Arooj were charged under Section 295-B of Pakistan's blasphemy statutes against "defiling the Koran" after an Islamist mob demanded "death to blasphemers" inside Civil Hospital, their attorney said. Conviction under Section 295-B is punishable by up to 10 years imprisonment and/or a fine.
The two Roman Catholic nurses were sent to jail in judicial custody on Friday night (April 9) for their security, according to police. Their families have gone into hiding out of fear of Islamist mobs.
A Muslim co-worker attacked Lal, according to cell phone video recorded by an unidentified hospital employee showing the co-worker, identified only as Waqas, telling a group he attacked her with a knife. He is shown saying he saw Lal ask Arooj to tear off a sticker inscribed with the Durood Sharif, an exaltation prayer used for Prophet Muhammad, from a wall cabinet.
"I could not remain silent over blasphemy of our holy prophet, so I attacked Mariam," Waqas tells the group, who during the recording shout slogans praising Muhammad and call for the hanging of the two women. "The prophet's respect is more precious than my life or yours."
Attorney Akmal Bhatti, chairman of the Minorities Alliance of Pakistan, said from Faisalabad that Lal, a single parent to a teenage daughter, and Arooj, engaged to be married in two weeks, work in the psychiatric ward of the hospital.
"According to Mariam's statement, a senior nurse had directed her on Thursday evening to remove all old wall hangings and stickers, some of them inscribed with Koranic verses. She said a sticker on a cabinet was already half torn off by some patient when Navish removed it," Bhatti told Morning Star News. "Mariam said she and Navish were simply following the directives when a nurse made an issue over the torn sticker, reportedly over a personal grudge."
The matter was seemingly settled after the two Christians assured co-workers that they had no ill intentions and left the hospital after ending their duty, he said.
"On Friday morning, someone again instigated the staff, and they attacked the two women," Bhatti said, adding that it was clear that both women had been framed in a false case. Sources said a Muslim nurse with help from Waqas instigated staff members against the two women.
Bhatti said that when word of the incident spread, an enraged mob including members of the Muslim extremist Tehreek-e-Labbaik Pakistan (TLP) converged on the hospital, raising fears for the security of the two women and other Christian workers.
"Fortunately, a large police contingent arrived just in time to take the two women into custody safely," he said. "We pleaded for the police not to register the FIR [First Information Report] before thoroughly investigating the allegation, but they succumbed to the pressure of the mob."