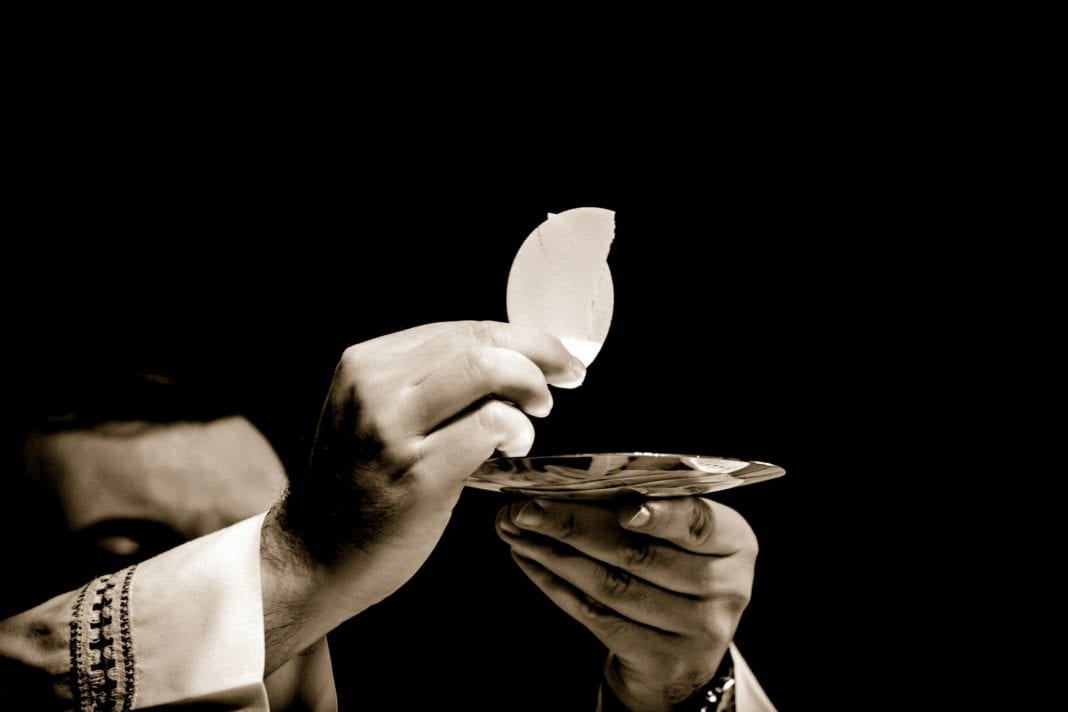 (RNS) — A Vatican official urged U.S. bishops to tap the brakes on plans to produce a document concerning Communion and politicians, sending a letter to a top U.S. cleric that could dial-down debate over whether to deny President Joe Biden the Eucharist.
The letter, dated May 7 and first reported by America Magazine, came from Cardinal Luis Ladaria, the prefect for the Congregation for the Doctrine of the Faith, the Vatican's watchdog for doctrinal matters. It was a response to a letter from the Los Angeles Archbishop José H. Gomez, head of the U.S. Conference of Catholic Bishops, concerning plans by some in the group to craft a document at their June meeting "to address the situation of Catholics in public office who support legislation allowing abortion, euthanasia or other moral evils."
The question of whether to bar Communion to Catholic politicians who support abortion rights legislation has emerged several times in recent American history — especially during the 2004 presidential campaign — and is generally left up to individual bishops to decide.
But fiery debate over the issue reignited following the election of Biden, the second Catholic president in U.S. history, a Democrat who has expressed support for abortion rights and was reportedly denied Communion by a priest in South Carolina during his campaign.
Ladaria urged caution in his letter: "The effective development of a policy in this area requires that dialogue occurs in two stages: first among the bishops themselves, and then between bishops and Catholic pro-choice politicians within their jurisdictions," he wrote, according to Catholic News Service.
Ladaria also noted any policy produced by the USCCB would require near unanimity and could not upend the right of an individual bishop to decide whether to deny a politician Eucharist in their diocese. In addition, he argued it would be "misleading" to suggest abortion and euthanasia are "the only grave matters of Catholic moral and social teaching that demand the fullest level of accountability on the part of Catholics."
The prefect expressed concerns about the issue sowing discord among bishops, as the debate has already pitted clerics against one another: Last week the archbishop of San Francisco expressed support for denying Communion to politicians who back abortion rights legislation, only to have another bishop in the same state — Bishop Robert McElroy of San Diego — argue the exact opposite days later.
Meanwhile, Cardinal Wilton Gregory, the archbishop of Washington, told Religion News Service in December that he plans to continue to offer Communion to Biden, saying he doesn't want "to begin a relationship with (Biden) based on a penalty."
Ladaria said that in lieu of unanimous consent among U.S. bishops, a document outlining a new national policy on the topic is primed to "become a source of discord rather than unity within the episcopate and the larger church in the United States."
Any discussion on the topic at the USCCB's June gathering, he wrote, "would best be framed within the broad context of worthiness for the reception of holy Communion on the part of all the faithful, rather than only one category of Catholics, reflecting their obligation to conform their lives to the entire Gospel of Jesus Christ as they prepare to receive the sacrament."
He concluded by urging U.S. clerics to speak with others.
"Every effort should be made to dialogue with other episcopal conferences as this policy is formulated in order both to learn from one another and to preserve unity in the universal church," he wrote.
A sweeping statement from U.S. bishops suggesting Catholic politicians who support abortion rights should be denied Communion could have far-reaching implications. There are 158 Catholics currently in Congress, according to Pew Research, but most are Democrats. Kristen Day, head of Democrats for Life, told RNS over the weekend her organization only considers three Catholic Democrats on the Hill — Sen. Bob Casey of Pennsylvania, Joe Manchin of West Virginia  and  Rep. Henry Cuellar of Laredo, Texas — to be "pro-life." This story has been updated to note that a story published by the National Catholic Reporter was written by Catholic News Service.
This article originally appeared here.