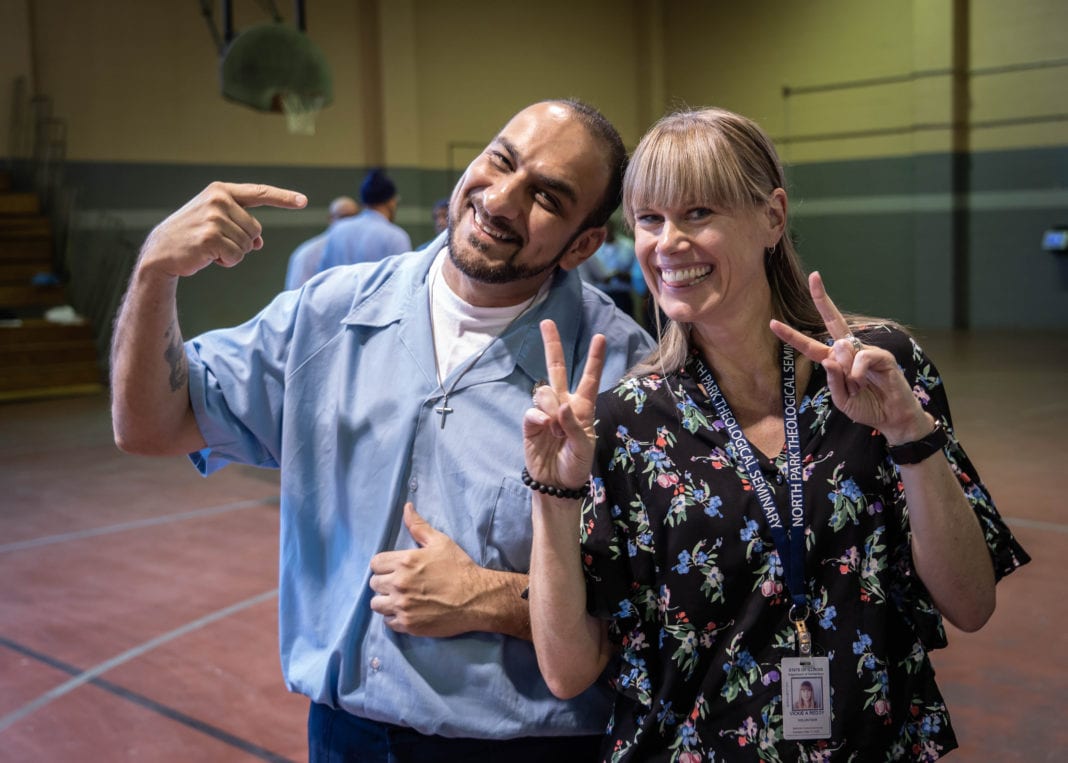 (RNS) — At North Park Theological Seminary, an evangelical school in Chicago, faculty opted for pen-and-paper classwork to continue courses for inmates during the COVID-19 pandemic.
At Rockhurst University, a Catholic institution in Missouri, the president tried new technology that enabled him to co-teach a "Human Geography" virtual course with prisoners at the Chillicothe Correctional Center.
And faculty of New Orleans Theological Seminary's Leavell College, a Southern Baptist school, have taught socially distanced students at the Louisiana Penitentiary in Angola, standing some 20 feet away from the closest prisoner.
Despite the elimination of most prison visitations for many months of the COVID-19 pandemic, some religious higher education institutions have found ways to stay connected with prisoners.
The pandemic has caused a "lockdown on top of the lockdown" for many incarcerated students, said Vickie Reddy, assistant director of North Park's School of Restorative Arts and an "outside student" in its first cohort.
"Many of them have had long lockdowns, but not like this. So it really has taken a mental health toll beyond the trauma that's already there," Reddy said.
North Park, which is affiliated with the Evangelical Covenant Church, began piloting courses inside the all-male Stateville Correctional Center, a maximum security prison outside Chicago, about five years ago, according to Michelle Clifton-Soderstrom, director of its School of Restorative Arts.
Within three years, it had launched a program offering a master's degree in Christian ministry and restorative arts, including courses in theology, history and pastoral care alongside race relations, healing from personal trauma and mobilizing for justice, Clifton-Soderstrom said. Its first cohort, set to graduate in 2022, includes about 38 students both inside and outside the prison who have met weekly at Stateville, sharing meals between classes.
North Park was ready to launch its first cohort for women at Logan Correctional Center several hours south of the city when the COVID-19 pandemic put prisons on lockdown and pushed pause on outside visitors and programming.
At Stateville, two students died from COVID-19 early in the pandemic, Reddy said.
Inside, students have largely been quarantined in their cells for months on end, she said. They haven't seen each other, not to mention outside students or instructors from North Park.
"It's only just started to open up," she said in mid-April.
Still, classes have continued at Stateville, with Reddy compiling individual packets of materials from instructors and dropping them off at the prison each week. She then returns to pick up students' completed assignments, scan them and send them back to instructors.
North Park has organized the students into small groups, too, helping them stay connected with each other inside the prison and with those outside by exchanging correspondence.
Without study halls, inside students have completed their assignments hunched over bunk beds too small to allow them to sit upright or sitting on toilets in their shared cells, according to Reddy. They don't generally have access to computers or to the internet in the best of times, she said, much less in lockdown.
"It's remarkable," she said. "And there's no concession. … There's no, 'OK, we'll go easy on you because you're in prison.' It's a full load and they have high expectations."
Within the last three weeks, she said, students and instructors finally have been able to meet over Zoom, nine students at a time from the same housing units, all distanced and masked. Reddy called it a "game changer" — one small step to reopening.
One student has described the program as the "prison to school pipeline," a play on the so-called school to prison pipeline, she added. For many inside students, it's a pathway not only out of prison, but also out of the cycle that brought them to Stateville in the first place.
At Rockhurst University, a Jesuit school in Kansas City, President Thomas Curran said he was determined to keep its college-credit courses going at Chillicothe Correctional Center without using the correspondence course option.