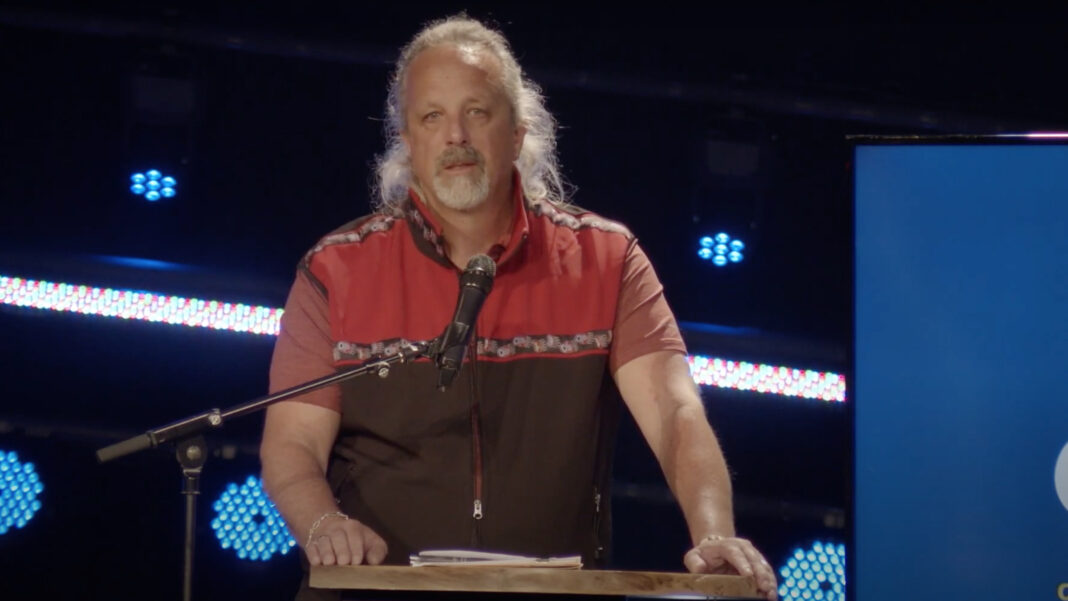 (RNS) — The Evangelical Covenant Church became the latest Protestant denomination in the United States to repudiate the Doctrine of Discovery, the theological justification that allowed the discovery and domination by European Christians of lands already inhabited by Indigenous peoples.
Delegates at the Covenant Annual Connection voted overwhelmingly (84%) on Friday (June 25) to approve a resolution acknowledging the damage done to Indigenous peoples in the Americas by taking their land and rights and lamenting the church's complicity in the continuing effects of that history.
"After 125 years, the healing is beginning in the Evangelical Covenant Church, and I'm grateful to be starting this journey with you today," the Rev. TJ Smith, president of the Indigenous Ministers Association, said in an emotional speech after the vote was taken.
While the Evangelical Covenant Church has been working on its resolution for the past five years, its action came the day after the Cowessess First Nation announced it had found indications of at least 751 unmarked graves near the former Marieval Indian Residential School in Saskatchewan.
Weeks earlier, the Tk'emlúps te Secwépemc First Nation had used ground-penetrating radar to confirm the remains of 215 children as young as 3 years old on the grounds of the former Kamloops Indian Residential School in British Columbia. Kamloops was opened by the Roman Catholic Church in 1890 and became the largest school in Canada's Indian Affairs residential school system, with enrollment peaking at 500 students in the early 1950s, according to the Tk'emlúps te Secwépemc.
Smith, who is Lakota, and others drew a line from the Doctrine of Discovery to what were known as Indian residential schools in Canada and Indian boarding schools in the U.S.
"Please understand this isn't just Canada," he said.
The Doctrine of Discovery began as a series of 15th-century papal edicts and later was enshrined in the 1823 Supreme Court decision Johnson v. M'Intosh, which established that the U.S. government, not Native American nations, determined ownership of property.
That doctrine led to practice, including the "violent assimilation of Native children in Indian boarding schools," added Lenore Three Stars, a Lakota speaker and public theologian who shared remarks with the Evangelical Covenant Church gathering by video. Those children were removed from their homes to attend boarding schools operated under the motto "kill the Indian, save the man."
"Over time, practice affected institutionalized injustice, which persists today," Three Stars said.
It's important for the church to know and lament that history, said Curtis Ivanoff, an Inupiat and superintendent of the Evangelical Covenant Church's Alaska Conference.