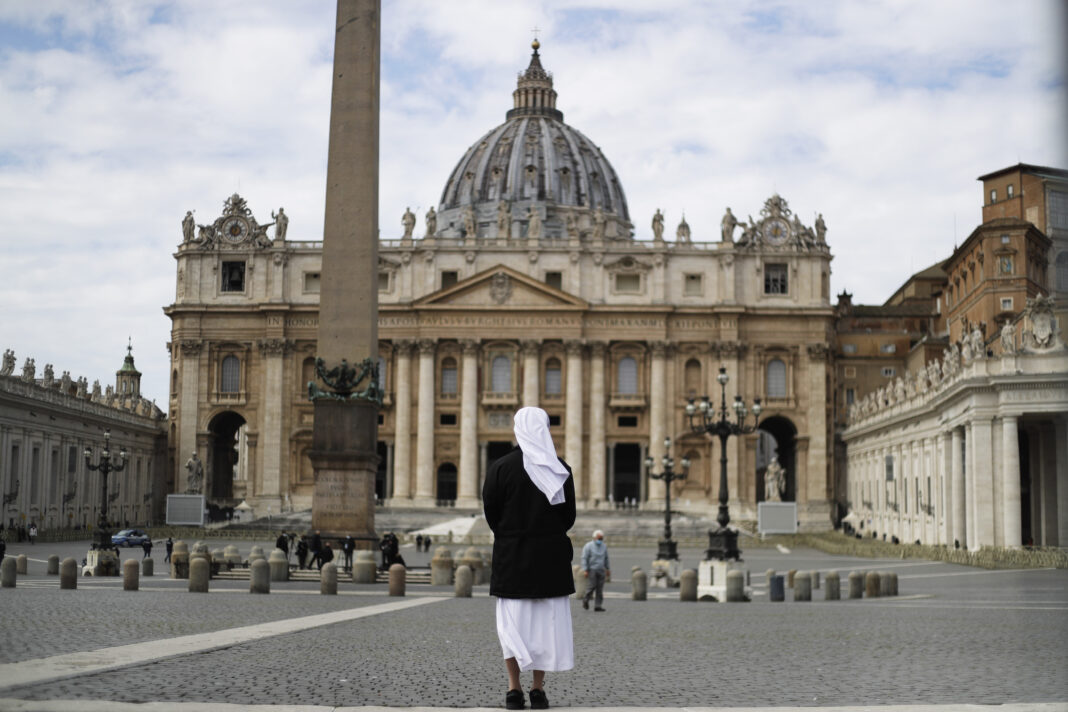 VATICAN CITY (AP) — A cardinal who allegedly induced an underling to lie to prosecutors. Brokers and lawyers who pulled a fast one over the Vatican No. 2 to get him to approve a disastrous real estate deal. A self-styled intelligence analyst who bought Prada and Louis Vuitton items with the Vatican money that she was supposed to send to rebels holding a Catholic nun hostage.
Vatican prosecutors have alleged a jaw-dropping series of scandals in the biggest criminal trial in the Vatican's modern history, which opens Tuesday in a modified courtroom in the Vatican Museums. The once-powerful cardinal and nine other people are accused of bleeding the Holy See of tens of millions of dollars in donations through bad investments, deals with shady money managers and apparent favors to friends and family. They face prison sentences, fines or both if convicted.
The trial, which will likely be postponed for several months after the first hearings Tuesday and Wednesday, is the culmination of a two-year investigation into the Holy See's flawed 350 million-euro London real estate venture. That operation exposed the Vatican's once-secret financial dealings and its structural dysfunction, which allowed just a few people to do so much damage to the Vatican's finances and reputation, with little expertise or oversight.
But the prosecutors' case also suggests that Pope Francis and his top lieutenants were not only aware of some of the key transactions, but in some cases explicitly authorized them, even without full documentation or understanding the details. Given the hierarchical nature of the Holy See and the obedience required of underlings to their religious superiors, questions also remain about why some people were charged and others not.
One Vatican monsignor who until recently was considered by prosecutors to be a key suspect, Monsignor Alberto Perlasca, managed to avoid indictment. Perlasca's office handled the London investment from start to finish and his boss had identified him as the main in-house culprit in obscuring the deal's costly outcome. But prosecutors suggested that Perlasca flipped and became an important witness, in part after coming under pressure to recant his testimony by the lone cardinal on trial, Angelo Becciu.
Francis, who as absolute monarch wields supreme legislative, executive and judicial power in Vatican City, has in many ways already convicted Becciu.
Last year, Francis presented Becciu with evidence that he had sent 100,000 euros in Vatican funds to a Sardinian charity run by Becciu's brother. Francis secured Becciu's resignation as head of the Vatican's saint-making office and then stripped him of his rights as cardinal, a sanction that was announced immediately by the Vatican press office.
Becciu, who is charged with embezzlement and pressuring Perlasca to recant, has denied any wrongdoing.
The onetime chief of staff in the Vatican secretariat of state, Becciu is also linked to a mysterious figure who is also on trial, Cecilia Marogna, whom he hired in 2016 as an external security consultant. Prosecutors allege Marogna embezzled 575,000 euros in Vatican funds that Becciu had authorized for ransoms to free Catholic hostages. Bank records from her Slovenian front company show the Vatican wire transfers were used instead to pay bills at luxury shops and boutique hotels. Marogna says the money was legitimate compensation and reimbursement for her intelligence-related expenses.