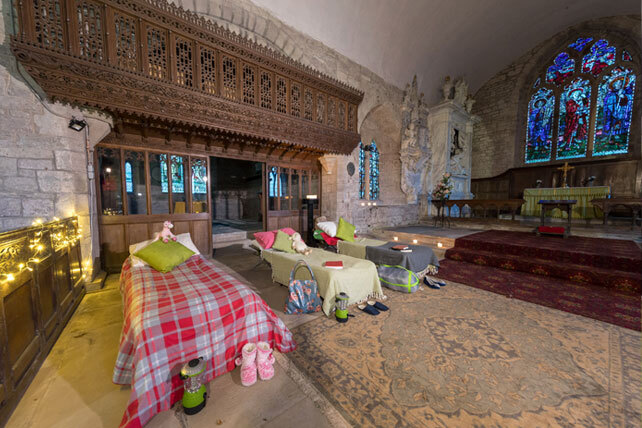 (RNS) — After the death of their founding pastor a few years ago, membership at Cullen Missionary Baptist Church in Houston, Texas, took a nosedive.
With less revenue coming in pledges and the expenses of keeping the church, which would take up nearly a city block, running, "we had more space than we knew what to do with and didn't have the people or resources to pay for it," said current pastor Andre Jones.
That's when the Cullen MBC turned to Church Space, a platform akin to Airbnb that allows houses of worship to rent their sanctuaries, fellowship halls and kitchens to other congregations and organizations for as much as $30,000 a year.
"Without Church Space, I don't know if we would still be here," said Jones. "Those funds and resources that came in have been lifesaving."
Since COVID-19 struck in March 2020, many churches have found themselves in Cullen MBC's position. Faced with declining revenues and empty buildings, churches have looked for ways to make a virtue of unused space.
Some have rented out offices and classrooms for those working and learning remotely. Others have hosted "ghost kitchens" that allow restaurants without storefront locations to prepare food for delivery services like Door Dash or Uber Eats. During the pandemic, Church Space has grown from 45 renters and churches — to more than 3,700.
The boom in church rentals has its dark side. "We have also unfortunately seen a 200% increase in funeral rentals," said Day Edwards, co-founder of Church Space.
But for churches in the U.S. and U.K., offering a variety of rentals to local tourists, professional chefs or burnt-out frontline workers has done undeniable good — sometimes offering church camping (known as "champing") experiences to travelers has been the difference between eking by or closing altogether.
Edwards and her co-founder, Emmanuel Brown, launched Church Space in Houston in 2019. The churches who participated in Church Space's pilot program earned an average of $23,000-$38,000 in their first year, according to Edwards.
Church Space currently has about 150 host sites across the U.S. but tends to be concentrated across the Bible Belt. Brown, a pastor himself, said Church Space is "for churches and by church leaders" and works to ensure that host churches are matched with renters who share their values.
"We truly believe that when churches earn more they're able to do more, not just in their congregation but also in their community," said Edwards.
The Church Space model allows participating churches to maintain their tax-exempt status, though the co-founders declined to share additional details. "It's something that sets Church Space apart from the other competitors," said Edwards.