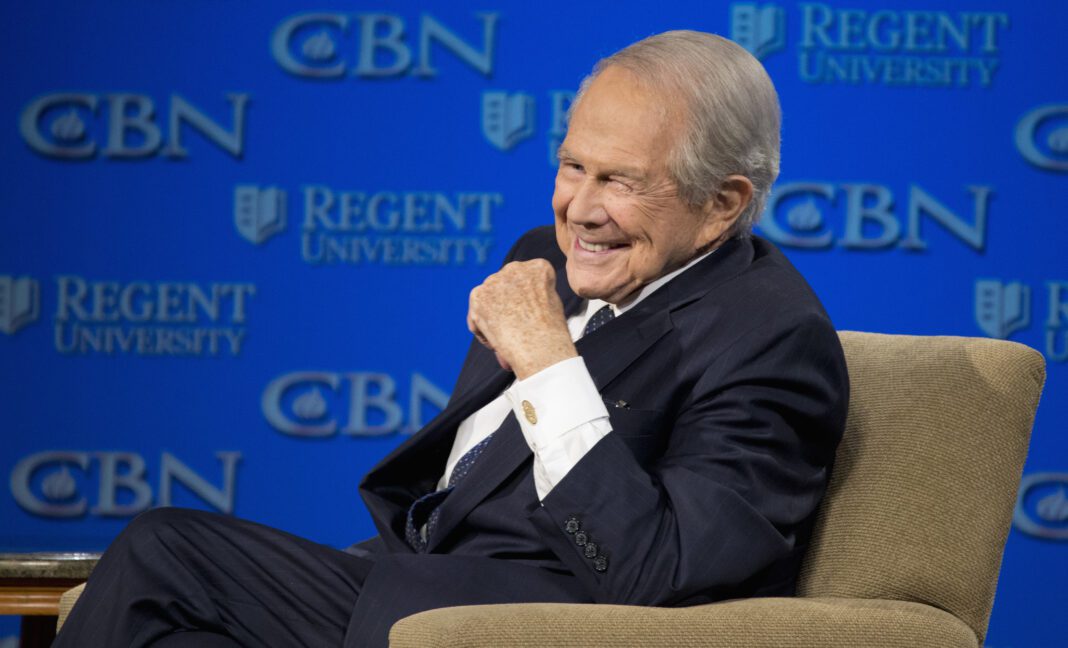 (RNS) — For many Americans, Pat Robertson, the Christian television pioneer and onetime presidential candidate, will always be remembered for his wacky pronouncements made at inflection points of American history.
"I don't think I'd be waving those flags in God's face if I were you," he warned Orlando, Florida, city leaders in 1998 when they flew rainbow flags downtown in honor of Gay Days at Disney World. "This is not a message of hate — this is a message of redemption. But a condition like this will bring about the destruction of your nation. It'll bring about terrorist bombs; it'll bring earthquakes, tornadoes and possibly a meteor."
After the Sept. 11, 2001, attacks on the twin towers, Robertson said he agreed with Jerry Falwell, his guest on his signature talkshow, "The 700 Club," that responsibility for the attacks on the United States fell to pagans, abortionists, feminists, gays and the lesbians.
Moments like these embarrassed his fellow Christians and marginalized the once-estimable political power Robertson wielded, consigning Robertson to the role of what one megachurch pastor called "the crazy uncle in the evangelical attic."
But the right-wing conservative could also surprise his viewers. Once, he invited the Rev. Al Sharpton to the couch on "The 700 Club" to discuss climate change, agreeing that the issue is one that might bring the right and left together. In 2012, Robertson said that marijuana should be legalized.
But any recollection of Robertson, who announced Friday his intention to retire as daily host of "The 700 Club," must include his transformation of televangelism from hot, pulpit-pounding sermons to a cool format. With his avuncular, upbeat personality, Robertson, 91, changed the picture of what televangelism could be. His "Tonight" show-like "The 700 Club" featured conversational talk and couch interviews, interspersed with entertainment.
The model was later adopted by Jim and Tammy Faye Bakker on their PTL ("Praise the Lord") network and Paul and Jan Crouch on their Trinity Broadcasting Network.
Over the years, five presidents, both Democrats and Republicans, appeared on the show, along with numerous world leaders and musical artists.