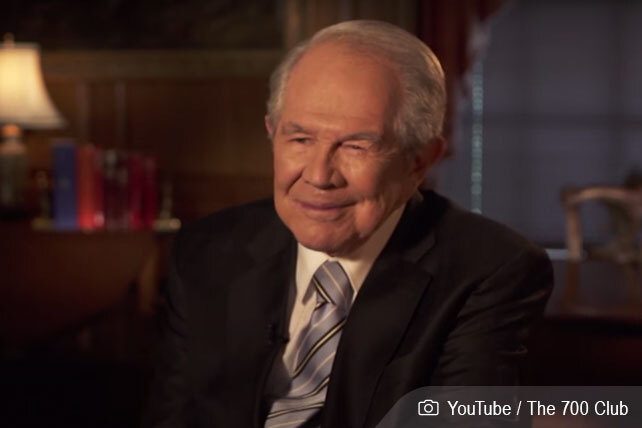 Televangelist Pat Robertson has announced that he is stepping down as daily host of Christian Broadcasting Network's The 700 Club. Robertson founded CBN in 1960 and is the founding host of The 700 Club, which began airing daily in 1966. Robertson is 91 years old.
In his announcement, which came during the celebration of CBN's 60th year of broadcasting, Robertson said that he is stepping down in order to spend more time teaching at Regent College, which he founded in 1977. 
Robertson went on to say that he will continue to appear on The 700 Club's monthly interactive shows to answer viewer email questions. Robertson will make other occasional appearances as well. 
Robertson's son, Gordon, will take over as the daily host. Gordon Robertson also serves as CEO of CBN.
Robertson's calling to ministry
In the CBN 60th anniversary historical documentary, Robertson recounted the network's origins and their connection to his own spiritual journey.
"I was working just off Wall Street, and that's when the futility began to come upon me. All these parties and all the stuff that you're doing, and what's life all about," Robertson said. "And so, that's when I had a real crisis of asking, 'Who am I and what am I doing here?' I began to think that I've tried pleasure. I've tried business. I've tried travel. I've tried all these things. And the one thing that must be the answer is to go into Christian service."
Robertson's mother didn't respond enthusiastically. A devout Christian herself, she questioned the sincerity of Robertson's faith. So in April 1956, she arranged for Pat to meet a missionary friend of hers. 
RELATED: Pat Robertson: It's Time to Tell Trump He's Had His Day
"I remember telling him about my search for God." Robertson recalled. "He said, 'Pat…isn't there something more?' And I said, 'Yes, I believe that Jesus Christ died for the sins of the world and for my sins, too.' And when I said that, it was like a voice that went off in my mind, repeating something that I had read in the Bible—that if you will confess with your mouth the Lord Jesus, and believe in your heart that God raised him from the dead, you'll be saved. And it was at that moment that I was changed—right then."