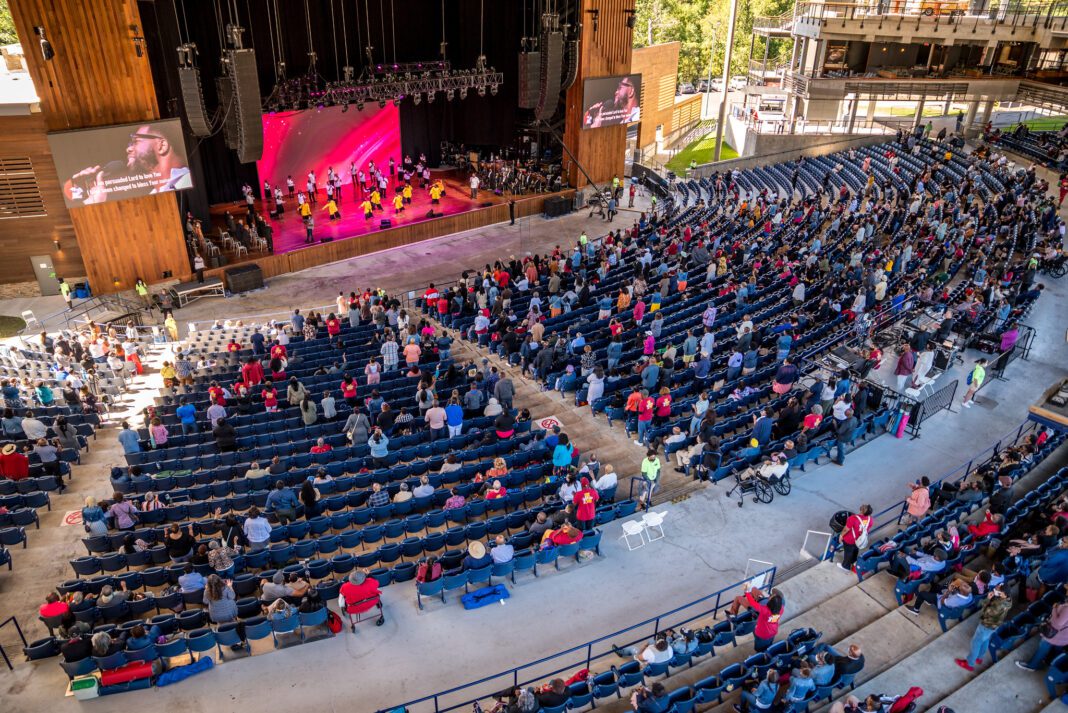 (RNS) — The pastor of a New York church that has halted in-person meetings since the coronavirus pandemic hit last year predicts the predominantly Black congregation won't gather inside its sanctuary until the start of next year.
A Pennsylvania minister is counting on warm fall weather to allow some of her congregants to meet for worship outside in October, as it did two Sundays in September.
And a Virginia megachurch leader has twice met with his congregants at Maryland outdoor venues — usually reserved for concerts and football games — but doubts regular in-person worship will happen before December.
While many congregations have been back to worship for weeks and months, often masked and socially distant, some African American clergy continue to hold off on in-person services. Others have found that when they do open, most members continue to watch the livestreamed services from home.
"Every church has to make a decision on where they believe the line of safety is," said the Rev. Howard-John Wesley of Alexandria, Virginia. "And in our mind, one member contracting COVID on the grounds of Alfred Street would be more than we believe glorifies God."
Alfred Street Baptist Church has faced two realities during the pandemic: Virtual services are successfully attracting members, and people are continuing to die from the coronavirus, including a variant Wesley said recently took the life of a 39-year-old church member.
Wesley said his church is erring on the side of caution — and many of his colleagues are coming to the same conclusions.
"We compare that to the imagery you see of evangelical white conservative Christians that have their churches back open and are erring on the side of 'faith,' and that God will protect us," Wesley said. "I think you have just a different perspective within African Americans."
The Rev. Leslie Callahan 's St. Paul's Baptist Church in Philadelphia capped attendance at its two outdoor September services, announcing a maximum of 75 mask-wearing worshippers. She said about 35 attended one service and 50 were at the other, while fellow members watched online.