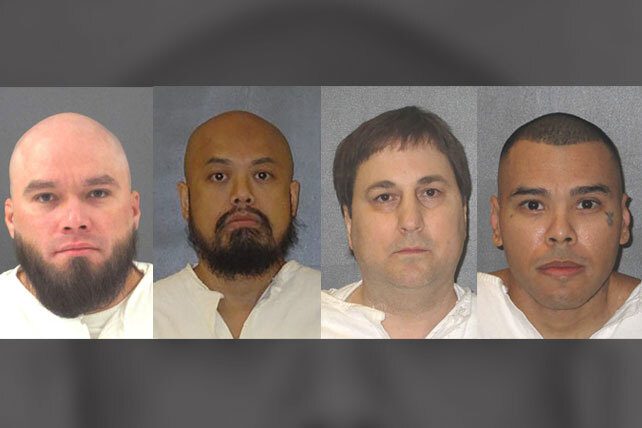 HOUSTON (AP) — Executions in the nation's busiest capital punishment state face delays amid legal questions over Texas' refusal to allow spiritual advisers to touch inmates and pray aloud as condemned individuals are being put to death.
It's unclear when Texas may carry out another execution after the U.S. Supreme Court's decision to hear religious freedom claims from death row inmate John Henry Ramirez. The court blocked his execution last month, about three hours after it could have been carried out. Several other inmates have since made similar claims, and courts have put some of their executions on hold.
"It would be unusual for somebody who has the same issue to not get a stay while the Supreme Court is deciding that issue. It would be very unusual," said Michael Benza, a law professor at Case Western Reserve University in Cleveland.
A ruling from the Supreme Court could be months away. It's set to hear oral arguments on Nov. 1.
Ramirez says the state is violating his religious freedom by not letting his spiritual adviser lay hands on him and pray out loud as he is executed. Texas prison officials say that direct contact poses a security risk and that prayers said aloud could be disruptive.
The most recent delay was for Stephen Barbee. He was set to be executed Tuesday, but U.S. District Judge Kenneth Hoyt in Houston ruled Thursday that Barbee has initially shown Texas' "limitations in the execution chamber substantially burden the exercise of his religion."
"I am very grateful for the stay of execution in Mr. Barbee's case as it will allow the court time to evaluate these important religious rights issues," Richard Ellis, Barbee's attorney, said in an email Friday.
Courts already had granted delays for two other inmates — Ruben Gutierrez, scheduled for Oct. 27, and Fabian Hernandez, set for Nov. 3 — at the request of prosecutors. Kosoul Chanthakoummane, set to die Nov. 10, and Ramiro Gonzales, scheduled for execution on Nov. 17, also are raising similar religious freedom claims, which could delay their lethal injections.
Executions in Texas have been sporadic in the last two years, largely due to the COVID-19 pandemic, with just three lethal injections carried out last year and three so far this year. In comparison, Texas carried out 13 executions in 2018 and nine in 2019.
Texas and Missouri have been the only states to execute inmates during the pandemic, with two in Missouri. The federal government under the Trump administration did execute 13 inmates in this same period. Oklahoma and Alabama both have executions set for later this year.