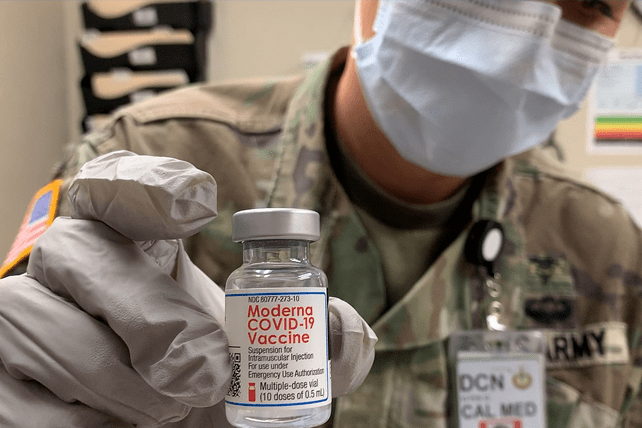 (RNS) — More than 1,700 religious leaders organized by former President Donald Trump's faith advisers are urging the U.S. military to grant religious exemptions to COVID-19 vaccine mandates, alleging service members with spiritual objections to the inoculations are being "stripped of their religious liberties."
But while the effort singled out COVID-19 vaccine mandates first initiated by President Joe Biden, it did not grapple with similar military mandates that predated the ongoing pandemic. It also lacked support from at least one of Trump's longtime faith advisers — a hint at possible divisions among the former president's evangelical allies regarding COVID-19.
In a letter sent to Secretary of Defense Lloyd Austin on Nov. 15, the group of faith leaders insisted military brass grant exemptions to COVID-19 vaccines before looming deadlines. Active-duty Navy and Marine Corps members must get the shots by Sunday (Nov. 28), while the Army has until Dec. 15. The Air Force deadline already elapsed on Nov. 2.
"We should be rewarding their bravery and the bravery of all our men and women in uniform, by not forcing them to choose between sincere religious convictions and staying in the military," the letter read in part.
"We urge you to grant religious exemptions as soon as possible for every American risking their lives to defend our country. Religious freedom is enshrined in our Constitution and must always be protected."
The letter was organized by the National Faith Advisory Board, a group founded in September with the former president's support and led by Paula White-Cain, a Florida pastor who oversaw the Trump administration's faith office. In addition to White-Cain, signers of the letter included several evangelical Christian leaders who advised Trump, such as Kenneth and Gloria Copeland, co-founders of Kenneth Copeland Ministries; Pastor Jack Graham, head of Prestonwood Baptist Church in Texas; Pastor Jentezen Franklin of Free Chapel church in Gainesville, Georgia; and the Rev. Samuel Rodriguez, president of the National Hispanic Christian Leadership Conference.
Other prominent signers included Ralph Reed, founder of the Faith and Freedom Coalition; former Minnesota congresswoman Michele Bachmann; and conservative commentator Eric Metaxas, a Trump loyalist who attracted media attention in 2020 after he admitted to punching an anti-Trump protester and emceed a "Jericho March" in Washington protesting the results of the presidential election.
The letter zeroed in on the COVID-19 vaccine but did not mention other long-standing vaccine requirements for members of the military. According to The Washington Post, neither the Army nor the Navy granted any religious exemptions to vaccine requirements over the past seven years — including during Trump's tenure.
Representatives for the advisory board did not immediately respond to questions about whether they took issue with the military's previous record of not granting vaccine exemptions on religious grounds.
Most active-duty service members have already been vaccinated against COVID-19, with the Army, Navy, Marine Corps and Air Force reporting inoculation rates of at least one dose ranging from 94% to 99% (the Air Force's data includes members of the newly created Space Force).
But holdouts have caused controversy, with critics noting military leaders are largely rejecting religious accommodation requests. For example: As of Nov. 16, the Air Force reported it was processing 4,817 such requests but had yet to grant any.