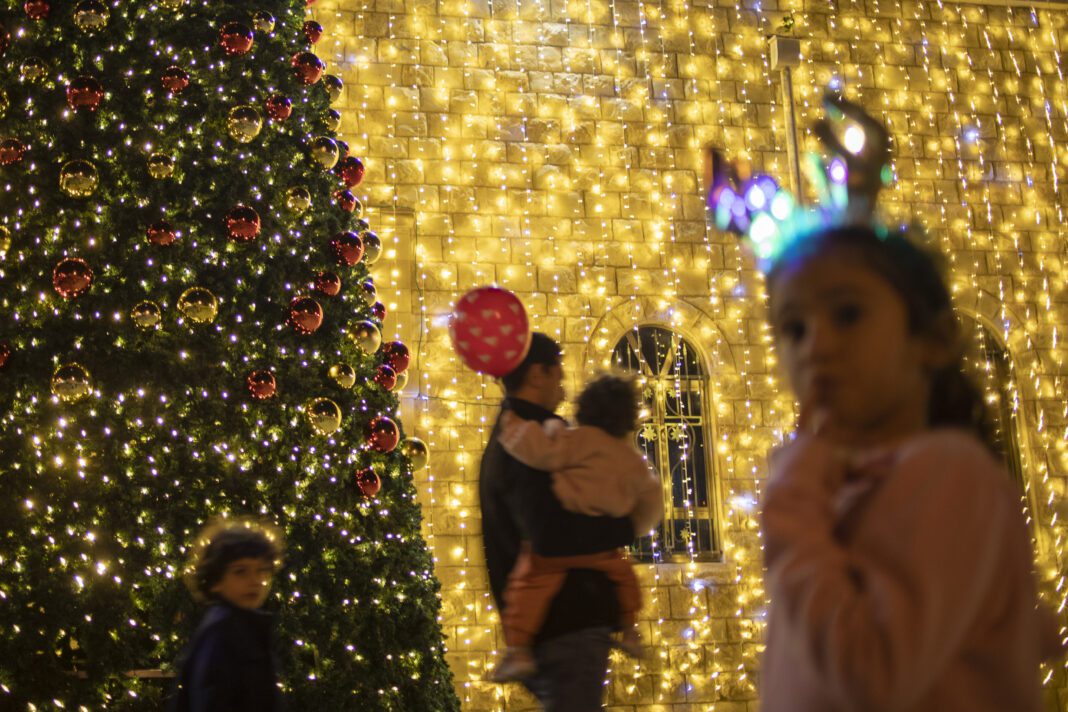 (RNS) — There will be no U.S. church choirs singing carols in Bethlehem's Manger Square to mark Jesus' birth this year at Christmas.
In late November, Israel imposed a ban on all incoming travel from the U.S. just as the omicron variant of the coronavirus was detected.
Beginning Tuesday (Dec. 21), Israelis may not travel to the U.S., either.
But there was one exception to the November-decreed lockdown: Birthright Israel delegations and similar Jewish travel programs were exempted. As late as Monday, 160 participants in Birthright's free 10-day trips for young American Jews landed at Ben-Gurion International Airport outside Tel Aviv. No more Birthright travelers will be allowed in for now.
The exception for "Jewish tourism," which Israeli Interior Minister Ayelet Shaked approved, drew outrage from Christian groups that had planned and paid for pilgrimages to the Holy Land at Christmas.
"I'm glad the Jewish groups are getting in, but be consistent across the board," said Frank Cox, pastor of North Metro Baptist Church in Lawrenceville, Georgia. "There are other groups that want to experience Israel just as the Jewish people would."
Cox was scheduled to take 40 of his church members to Israel and Jordan to visit the places where Jesus walked and preached. The trip had originally been scheduled two years ago. Last year it was canceled due to the pandemic. This year, all 40 members had meticulously complied with Israel's strict rules: vaccinations, a booster and three COVID tests (one before the flight and two after arrival).
But in late November, Cox, and hundreds of pastors and church members, were notified their trip was canceled. For some pastors, the notification came at the very last minute. Jordan Easley, pastor of First Baptist Church in Cleveland, Tennessee, had already checked his bags for his visit to Israel along with 100 church members, when a Delta Air Lines representative told him Israel has just closed its borders.
"Our chorus was going to sing Christmas carols as a guest of the mayor of Bethlehem," said Easley. "It was supposed to be a televised event."
All foreign citizens were banned from entering Israel beginning Nov. 28. Amid a surge of omicron cases, Israel also classified the United States, Italy, Belgium, Germany, Hungary, Morocco, Portugal, Canada, Switzerland and Turkey as "red" states and placed them under a travel ban on Monday.
As of earlier this week, Israel had 1,306 new COVID-19 cases, the highest daily caseload in two months. Of those about 350 were identified as omicron cases. On Monday, Israel recorded its first omicron-related death.
Many American Jews, especially those with children or close relatives in Israel, also protested the travel ban.
Dov Lipman, founder of Yad L'Olim, an organization that has been fighting for the right of relatives of Israeli immigrants to visit Israel, acknowledged the frustration faced by anyone being denied access to the country.
"Recently, a few groups have been allowed in, but those have been the exception, not the rule," Lipman said, referring to a handful of Jewish Birthright groups, sports groups and contestants of the Miss Universe pageant, which was held in the seaside resort of Eilat on Dec. 12.