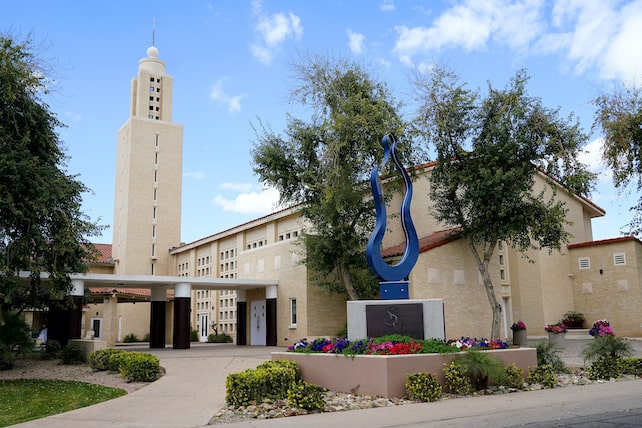 DETROIT (AP) — One word caught the ear of a young priest a few years ago when his father shared a video of his 1990 baptism at a suburban Detroit church.
"Wait," the Rev. Matthew Hood recalled thinking. "Something doesn't seem right here."
Indeed, an error by a deacon who said "We baptize" instead of "I baptize" spoiled Hood's baptism in the eyes of the Catholic Church — and, in domino-like fashion, erased his other sacraments and meant that he wasn't really a priest.
It was perhaps the most significant consequence from a controversy that emerged nearly two years ago at St. Anastasia Church in Troy, after the Vatican said the use of "we" invalidates baptisms in the Catholic faith.
Thousands of Arizona Catholics recently made headlines when they learned that they, too, may have been improperly baptized with the wrong words in a separate but similar matter involving a popular pastor, the Rev. Andres Arango, who resigned Feb. 1.
In Michigan, Hood was baptized, given other sacraments and swiftly ordained again to the priesthood within days in 2020. But the Archdiocese of Detroit still hasn't heard from hundreds of people whose rites at St. Anastasia are considered invalid, despite outreach efforts and publicity.
It immediately caused confusion and anger as frustrated members of St. Anastasia wondered why the Catholic Church was hung up on a single word expressed by a deacon during baptisms in the 1980s and '90s.
"Why do you think so many people are leaving the Catholic Church?" a woman, who wasn't identified, said during a 2020 question-and-answer session with clergy that's posted online. "This is a great example why. This is just awful."
An unidentified man at the meeting posed a question commonly asked in thorny situations: "What would Jesus do?"
"I think he would be on a different side here and say by what you're doing you have disrupted so many lives, so many people," the man said.
The archdiocese said Deacon Mark Springer, now retired, performed nearly 800 baptisms at St. Anastasia from 1986-99. After the decree by the Vatican, local church officials said all were presumed invalid unless there's clear evidence that he didn't use the phrase "we baptize."
It's not the "we" of the congregation doing the baptizing, but rather the "I" of Jesus Christ, working through a priest or deacon, that makes a baptism valid, the Vatican said in a global order.