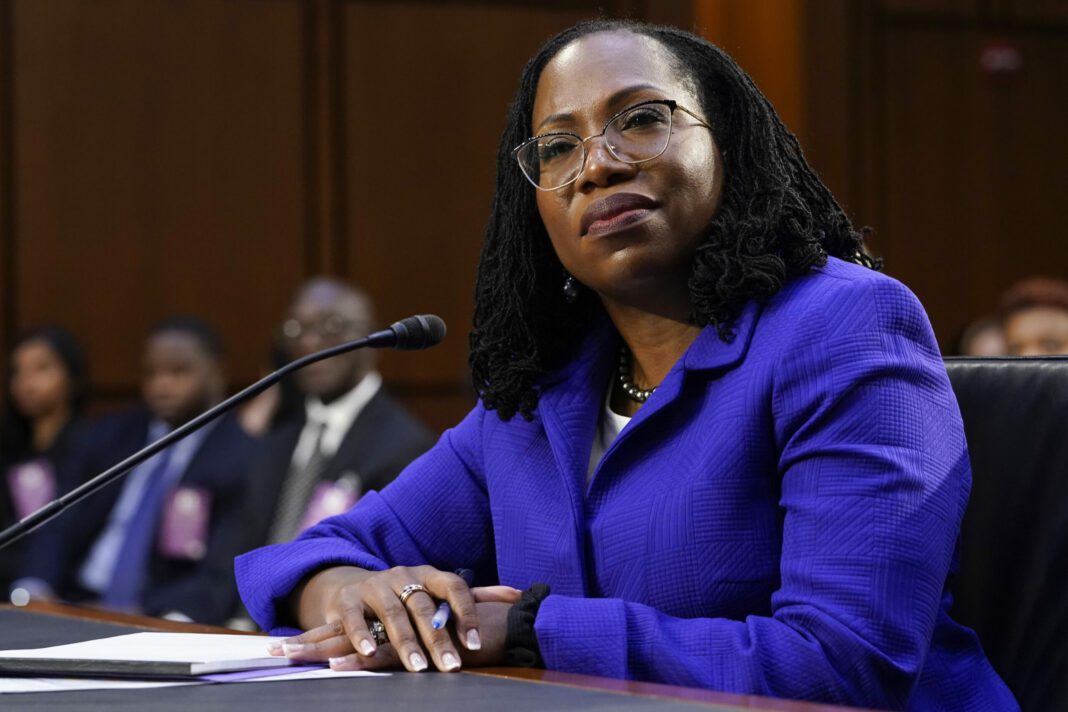 WASHINGTON (RNS) — When she spoke at the first day of her Senate Judiciary Committee confirmation hearing as a nominee for Supreme Court justice, Judge Ketanji Brown Jackson stated her belief in God and her gratitude for divine blessings.
"I must also pause to reaffirm my thanks to God, for it is faith that sustains me at this moment," she said on Monday (March 21). "Even prior to today, I can honestly say that my life has been blessed beyond measure."
This echoed similar remarks after President Joe Biden announced her historic nomination.
"I must begin these very brief remarks by thanking God for delivering me to this point in my professional journey," said Jackson after thanking Biden and Vice President Kamala Harris during the Feb. 25 speech. "My life has been blessed beyond measure, and I do know that one can only come this far by faith."
Njeri Mathis Rutledge wasn't surprised her former Harvard Law School classmate's first impulse was to thank God.
"She's a very sincere person so I believe that was in her heart to say," said Rutledge, who lived in the same dorm and attended the same core classes with Jackson, an appellate court judge named by Biden to succeed Justice Stephen Breyer.
"I think being a Black woman in the legal field, which can sometimes be hostile," added Rutledge, "it does take faith."
But Rutledge, now a professor of law at South Texas College of Law Houston, like many other admirers and supporters of Jackson, 51, does not know the details of her college friend's religious practice, though she considers her to be "a woman of strong faith, strong Christian faith." Rutledge, who is Facebook friends with Jackson, said she doesn't recall whether or not Jackson, who "spent a lot of time with her studies," attended a local Black church with her and some other Black students during their first year of law school.
She said Jackson — who would become the nation's first Black female Supreme Court justice if confirmed — was not overtly expressive of her faith when they were in school together in the 1990s.
"The way that we express our faith is not just through words but by actions," said Rutledge, describing Jackson's kind and supportive ways, including making sure Rutledge had enough pencils before a civil procedure exam. "And she certainly had the heart of a Christian."
Scant details of Jackson's past or present faith are available, most of them drawn from a few speeches in a 2,086-page document from the Senate Judiciary Committee. Others questioned by Religion News Service could not describe her current religious practice, if any.
A staffer at the Senate Judiciary Committee could not comment further on details about Jackson's faith.