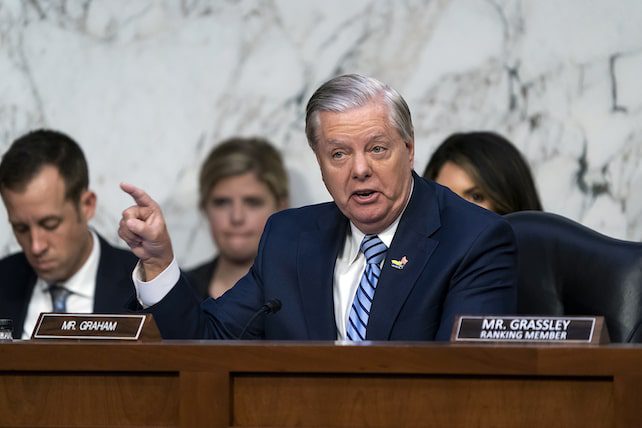 WASHINGTON (RNS) — South Carolina Republican Sen. Lindsey Graham grilled Supreme Court nominee Judge Ketanji Brown Jackson about her faith on Tuesday (March 22), an uncomfortable exchange that confirmed Jackson's status as a Protestant Christian and highlighted questions about the separation of church and state.
The line of questioning emerged during the second day of Senate hearings to determine whether to confirm Jackson to the Supreme Court, with Graham leveraging the moment to air grievances about how Democrats treated past Supreme Court nominees.
After noting Jackson had mentioned her faith during her opening remarks to the Senate Judiciary Committee the day before, Graham asked: "What faith are you, by the way?"
Jackson, who currently serves on the U.S. Court of Appeals for the D.C. Circuit, replied cautiously: "Senator, I am Protestant," she said, before adding, "nondenominational."
RELATED: Ketanji Brown Jackson publicly expresses thanks to God but keeps faith history private
Jackson has spoken publicly about her faith recently — both during her announcement as President Joe Biden's nominee to replace Justice Stephen Breyer and before the Senate Judiciary Committee on Monday — but did not specify her faith tradition in either instance. However, her response to Graham revealed that, if confirmed, she would be one of possibly two Protestants on the court (Justice Neil Gorsuch was raised Catholic but attended an Episcopal church) and the only justice to identify as a nondenominational Christian.
Yet Graham blew past Jackson's answer, quickly asking whether she could "fairly judge a Catholic." When Jackson attempted to reply, he interrupted to say he assumed she could before pressing her again: "How important is your faith to you?"
"Personally, faith is very important. But as you know, there's no religious test in the Constitution under Article Six — " Jackson began, referencing the section of the U.S. Constitution that bars forcing public officials to submit to religious tests.
Graham interjected: "And there will be none with me."
Jackson continued: "It's very important to set aside one's personal views about things in the role of a judge."
Graham said he agreed, but continued to pepper Jackson with religion-related questions, such as asking her to rank "how faithful" she is on a scale of 1 to 10 and inquiring how often she goes to church. ("I go to church probably three times a year, so that speaks poorly of me," Graham said.)
RELATED: Supreme Court nominee Ketanji Brown Jackson: 'One can only come this far by faith'