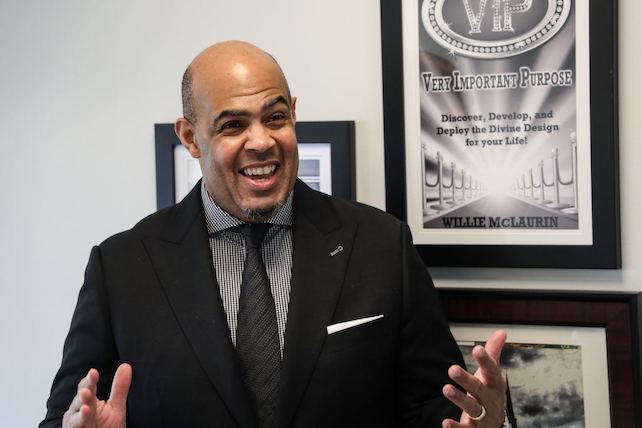 NASHVILLE (BP) – Willie McLaurin expresses a difference between working "in the business" and working "on the business."
"So many leaders, they're working in the business. They're putting out fires. They're crossing the Ts and dotting the Is. That's working in the business," McLaurin said. "But I've learned how to work on the business.
"That just simply means that on a regular basis, I have to constantly plan [for] the future. I need to be thinking strategically about the future, vision casting, and just thinking futuristically about our work together. So somebody has to be thinking and working on the business."
With 20 years of service in Southern Baptist leadership, much of it with the Tennessee Baptist Mission Board, McLaurin is a few months into his post as interim president and CEO of the SBC Executive Committee.
Between much travel and many meetings in serving an increasingly diverse body of Southern Baptists, he sat down with Baptist Press to reflect on issues related to his job and Southern Baptist life.
He spoke of his appreciation for being warmly received by Southern Baptists, and the joys and challenges of leadership at this particular time in history. The importance and health of the local church, committed pastors, entities he described as Christ-centered and a diligent Executive Committee staff were among topics.
He addressed unity in the SBC, as opposed to uniformity. He views the challenge of restoring unity across the SBC as among the most important faced.
"No network of churches is without its challenges. And I think if you would ask any number of Southern Baptists what the challenges are, that they will articulate those challenges from their culture, from their context or from their point of view," he said. "We just need to make sure that as a network of churches, a network of Great Commission Baptists, that we are unified around the core issues.
"We're unified around the Gospel. We're unified around the fact that there are people that are lost and they're on their way to hell and they need Jesus, and that we're unified around the fact that we've got to get the Gospel to our nations and our neighborhood."
McLaurin is accustomed to numbering his days, inspired by Psalm 90:12, that pleads for God to teach His people to number their days, that they might gain a heart of wisdom.
When he spoke with Baptist Press, McLaurin was on his 860th day of service to the EC, where he began in 2019 as vice president for Great Commission relations and mobilization, and approaching his 100th day serving as interim CEO and president of the EC, a post EC officers appointed him to Feb. 1.