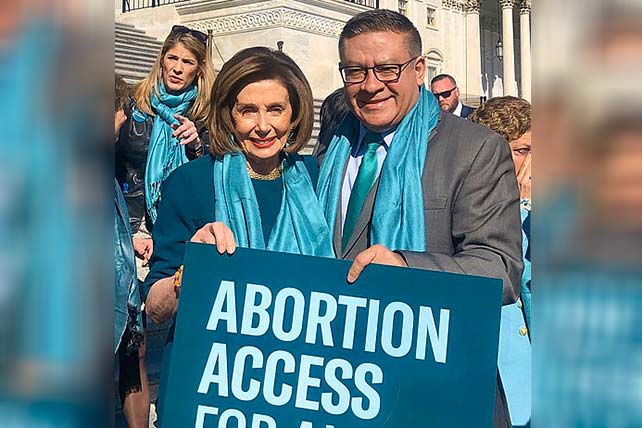 WASHINGTON (RNS) — Since San Francisco Archbishop Salvatore Cordileone barred House Speaker Nancy Pelosi from receiving the Eucharist in his jurisdiction last Friday (May 20), three other bishops from the conservative wing of the U.S. Catholic Church have followed, citing her support for abortion rights as cause to invalidate her right to the sacrament.
The same day that Cordileone determined in a public letter that Pelosi was "not to be admitted to Holy Communion unless and until she publicly repudiate her support for abortion 'rights' and confess and receive absolution," Bishop Robert Vasa barred the speaker from Communion in the Diocese of Santa Rosa, which borders Cordileone's archdiocese.
"I have visited with the pastor at St Helena and informed him that if the Archbishop prohibited someone from receiving Holy Communion then that restriction followed the person and that the pastor was not free to ignore it," Vasa's statement read.
RELATED: Pelosi Pushes Back on Archbishop Who Denies Her Communion
On Wednesday Vasa was joined by Bishop Michael Burbidge of the Diocese of Arlington, in Virginia, and Bishop Joseph E. Strickland of the Diocese of Tyler, Texas, a known conservative firebrand.
Cordileone, Vasa, Burbidge and Strickland are part of a small but increasingly strident group in the U.S. bishops' conference that feuded with their colleagues last summer over whether clerics should deny the sacrament to Biden for his support of abortion rights. More liberal-leaning bishops, such as Bishop Robert McElroy of San Diego, accused supporters of the idea of having "weaponized" the Eucharist.
A report on the issue delivered months later chiefly recommended that American Catholics be given more education on the meaning of the Eucharist.
In his statement Friday, Vasa invoked an article of canon law that, in his words, "makes it clear that providing sacraments to someone prohibited from receiving them has its own possible penalties." According to Vasa, canon law says a person can be "punished with suspension" for intentionally administering a sacrament to "those who are prohibited from receiving it."
Canon 915 states: "Those who have been excommunicated or interdicted after the imposition or declaration of the penalty and others obstinately persevering in manifest grave sin are not to be admitted to Holy Communion."
The Rev. John Beal, a canon lawyer and professor at the Catholic University of America, was dismissive of Vasa's argument, which contradicts the commonly held belief that Communion denials are limited to an individual bishop's diocese.
RELATED: Citing Abortion Rights, San Francisco Archbishop Bars Pelosi From Communion
"Bishops are rarely punctilious about procedural niceties," Beal said in an email.
Burbidge appeared to echo Vasa when he declared on a podcast that he intends to respect Cordileone's ban on Pelosi because "he is her bishop and as that bishop the direction and guidance he provides is not limited to just a geographical area." Representatives of the Arlington Diocese said they could not confirm whether Burbidge was making the same argument as Vasa.