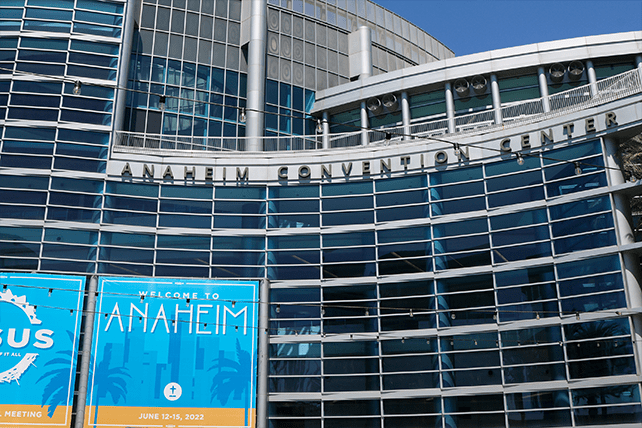 Saddleback Church's standing with the Southern Baptist Convention is in doubt after disagreement erupted among SBC messengers in response to recommendations given by the SBC's Credentials Committee on Tuesday.
The Credentials Committee, which makes recommendations as to whether individual congregations are currently in "friendly cooperation" with the denomination, recommended a study committee into Saddleback's use of the title "pastor" with regard to female members of its staff.
The controversy arose in May 2021 when Saddleback ordained three women and gave them the title of pastor, a move some believe is in violation of the Baptist Faith & Message, the SBC's unifying statement of belief, which says, "While both men and women are gifted for service in the church, the office of pastor is limited to men as qualified by Scripture."
Disagreement exists in the denomination about whether the "office of pastor" applies only to lead pastors, or if women are barred from carrying the title entirely, even if their job responsibilities do not violate Baptist conviction. The purpose of the study committee would be to provide clarity on this question.
Some, however, feel that the issue is already clear enough, including Southern Baptist Theological Seminary (SBTS) president Albert Mohler.
Mohler Objects
"I served on the committee that brought the Baptist Faith & Message 2000 that was overwhelmingly adopted by this Convention," Mohler said. "My concern as a churchman, a theologian, and someone who loves this Convention—as I know everyone in this room does—if we eventually have to form a study committee over every word in our confession of faith, then we're doomed."
Applause erupted throughout the room.
While Mohler said that he appreciated the work of the Credentials Committee and the spirit with which they brought their recommendation forward, he emphatically said, "I am a confessional. This is a confessional denomination."
"We say what we believe in specific words that are in the Baptist Faith & Message. The moment we start to, of necessity, have study committees decide what the words mean—The words mean what Southern Baptist said in the year 2000," Mohler continued. "At that time, the word 'pastor' was used by the committee and adopted by the Convention, because we were told, that is the most easily understood word among Southern Baptists for pastoral teaching leadership."
Greenway Proposes an Amendment
Later in the discussion, president of Southwestern Baptist Theological Seminary (SWBTS) Adam Greenway proposed an amendment to the recommendation that would take the focus of the study committee off of female ordination specifically, in favor of more clearly defining what it means to be in "friendly cooperation with the denomination generally—that is, to what measure or degree do congregations need to align with the Baptist Faith & Message, in conjunction with partnering on missions and church planting, to remain within the fold.