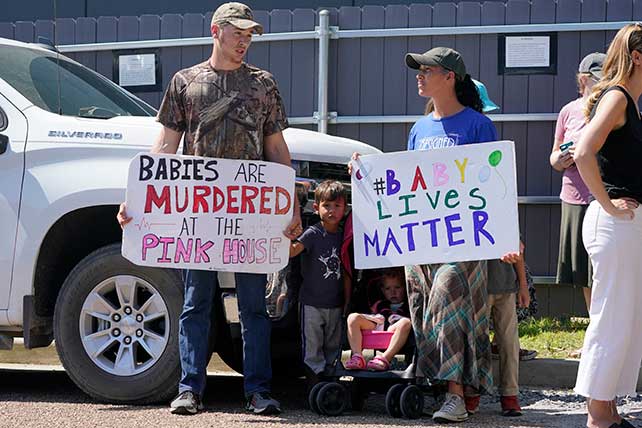 NASHVILLE (BP)—Southern Baptists who have advocated for preborn children and their mothers for decades rejoiced at the U.S. Supreme Court's reversal of nearly 50 years of nationwide, legalized abortion while acknowledging much work remains.
A day many persistent, pro-life advocates had long sought and prayed for arrived June 24, when the high court overruled its 1973 Roe v. Wade opinion – as well as the 1992 Planned Parenthood v. Casey ruling that affirmed Roe — and returned abortion policy to the states. About half of the 50 states have enacted or are soon expected to enact abortion bans throughout pregnancy or at some stage of pregnancy.
The Supreme Court's 5-4 opinion in Dobbs v. Mississippi Women's Health Organization brought an end to an abortion rule established by Roe that cost the lives of more than an estimated 63 million preborn children.
The Southern Baptist Convention provided a leading voice among American religious groups that opposed the abortion regime produced by Roe and advocated for pro-life protections in public policies.  Messengers to the SBC's annual meetings called for the end of legalized abortion through a series of pro-life resolutions adopted since 1980. This year, messengers approved a resolution that urged the Supreme Court to overturn Roe and Casey and encouraged states to enact pro-life policies.
RELATED: BREAKING: Supreme Court Overturns Roe
Among the many Southern Baptists who have prayed and worked for a pro-life America in law and culture, several leaders in the cause offered their reactions to Baptist Press regarding Roe's reversal. They have advocated for life through such means as leading SBC entities; preaching in churches; teaching in seminaries, universities and colleges; advocating for pro-life policies at the federal and state level; promoting pro-life resolutions at the convention's annual meeting; writing for publication; and/or serving in and establishing pregnancy resource centers.
Here are the responses provided by those Southern Baptists to the Supreme Court's monumental decision:
— Richard Land served as president of the Christian Life Commission (CLC), later renamed the Ethics & Religious Liberty Commission (ERLC), from 1988 to 2013. Already a long-time, pro-life advocate, Land was the first head of the entity to champion and prioritize the issue on behalf of Southern Baptists. He retired as president of Southern Evangelical Seminary in 2021.
"Now that the prayers of millions of Southern Baptists and other Christians have been answered, and the egregious 1973 Roe v. Wade decision has been pitched onto the ash heap of history, pro-life Christians should do two things," Land told BP. "First, give praise and honor to our Heavenly Father for giving us this victory. Second, thank all the fellow pro-life Christians you know for their efforts and prayers over the five decades when the Supreme Court substantially took away our right to decide the nation's law on this most foundational of issues – the sanctity of all human life.
"It has been a long battle for me — I have been pro-life since 1964, when I came into direct contact with a 12- to 14-week-old human fetus being displayed in my high school biology class. This baby was just as human as I was, merely at an earlier stage of development.
"I believe God in His providence provided me with that experience so I would never doubt the full humanity of any human baby. I was physically nauseous when the Roe v. Wade decision was announced in 1973."