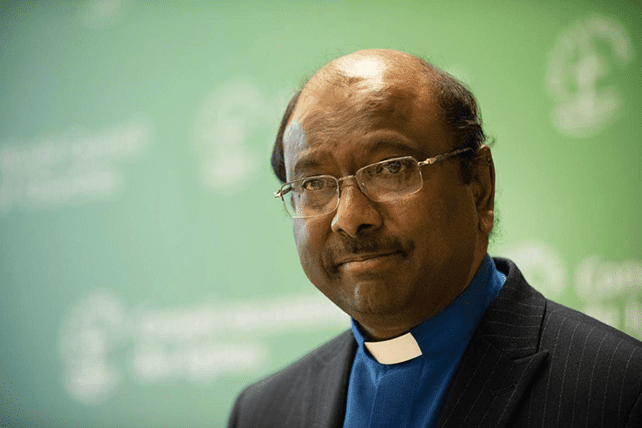 (RNS) — Since being elected to lead the World Council of Churches earlier this month, the Rev. Jerry Pillay, former general secretary of the Uniting Presbyterian Church in Southern Africa, has been rebuffing critics who accuse him of making antisemitic remarks by referring to Israel's treatment of Palestinians as tantamount to apartheid.
Pillay, the dean of the University of Pretoria, is slated to assume leadership of the global ecumenical Christian group at the beginning of next year. As many in the WCC celebrated his June 17 election at a meeting of the group's central committee, some Jewish leaders expressed outrage that the WCC would elevate someone who has in the past called out Israel in language that many Jews believe crosses a line.
David Michaels, director of United Nations and intercommunal affairs at B'nai B'rith International, a Jewish service organization, described Pillay's election as "astounding and alarming" and accused him of espousing "simplistic ideological extremism" and having "a problem with Jews — at least those supportive of Zionism."
Michaels and other critics pointed to a theological paper Pillay published in 2016 titled "Apartheid in the Holy Land: Theological reflections on the Israel and/or Palestine situation from a South African perspective." The paper concludes that a "comparison between the Israel-Palestine conflict and the South African apartheid experience is, indeed, justifiable."
Pillay also reportedly gave a speech at a 2014 event organized by the Israel/Palestine Mission Network of the Presbyterian Church (U.S.A.), which took place during the denomination's general assembly. Like the paper, the title of the talk delivered by Pillay was reportedly "Apartheid in the Holy Land."
Besides Pillay's invocation of apartheid — the term used to describe the historic, racist subjugation of people of color in South Africa — Michaels also challenged Pillay's positive references to the controversial "boycott, divestment and sanctions" movement directed at Israel.
Michaels accused the WCC itself of being "complicit in a predominant contemporary strain of anti-Semitism," saying a faction in the WCC has worked to "weaponize" the organization against Israel.
In an interview with The Jerusalem Post, South Africa's Chief Rabbi Warren Goldstein called on Pillay "to retract his 2016 statements accusing Israel of apartheid and calling for a boycott of the Jewish state."
Pillay responded in a statement issued by the WCC on June 23, saying: "I support the Jewish people preserving their identity and practicing their religious beliefs and values. I believe that all religions must be respected and people of all faiths — and no faith — must work together to create a world of justice and peace in which we express love, unity and reconciliation."
"This stance has been and continues to be that of the World Council of Churches, and it would never elect a leader who practiced or preached antisemitism in any way, shape or form," the statement said.
"Consequently," it continued, "the WCC will continue to stand firmly behind United Nations (UN) resolutions on the occupied territories and speak out against all forms of injustice, regardless of where or who they come from."