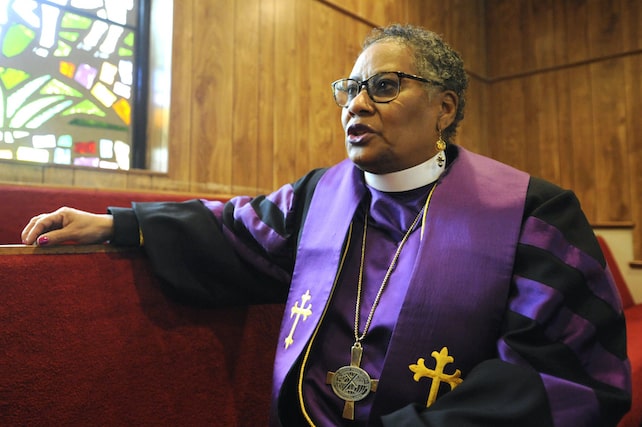 (RNS) — The Christian Methodist Episcopal Church has elected its second woman bishop and received its first episcopal address from a woman during its quadrennial General Conference.
"I think when you elect the first you have to be really careful that they just don't become a token and so I was really excited," said Bishop Teresa Jefferson-Snorton, who was the first woman elected in 2010 and serves as the secretary on the College of Bishops.
The Rev. Denise Anders-Modest, pastor of Trinity CME Church in Memphis, Tenn., and coordinator of the CME Commission on Women in Ministry, will serve the 2nd Episcopal District, which includes Kentucky, Ohio and Central Indiana.
Her forerunner was particularly pleased that voting delegates chose Anders-Modest as the second to win election to the role of bishop, not waiting until the last opportunity to add another woman to the CME episcopacy. "That's also quite commendable that people were able to see her qualifications and not just, 'oh, we need a woman bishop.'"
Jefferson-Snorton achieved another first this year, becoming the first woman to give the episcopal address — the message given on behalf of the bishops to the denomination — on June 25, the first official day of the gathering at the Duke Energy Center in Cincinnati. The meeting, which was attended by about 2,500 people, is set to conclude Friday (July 1).
She also was elected as the denomination's new ecumenical and development officer, a role that no longer requires her to also lead a district of churches. Part of her role will be to seek resources to create and work on ministry and outreach programs at both the denominational and local levels.
"I see lots of our churches that are in communities that have such need but the local church itself doesn't really have the capacity to go out and look for funds or even manage the program," she said.
RELATED: Women breaking through to top roles in Black churches
The delegates, who attended in person, also elected the second African bishop in the history of the denomination, which was founded in 1870 and claims 1.2 million U.S. members. It has sister churches and missions in 14 African countries, Haiti and Jamaica.
The Rev. Kwame L. Adjei, a member of the CME Church's Judicial Council and a former associate pastor and high school chaplain in his native Ghana, will serve the 11th District, which is in East Africa.