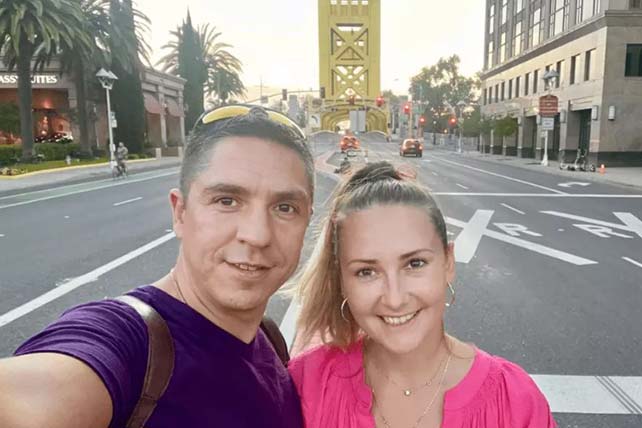 WEST SACRAMENTO, Calif. (BP) – Russian Baptist Church in West Sacramento has honed its purpose while helping diverse refugees of Russia's war on Ukraine resettle here, Senior Pastor Mikhail Avramenko told Baptist Press.
"In all, we see that God is working with all of us, bringing us to a deeper understanding of who we are, why we are here and what can be done for the glory of God in this situation," Avramenko said. "One thing we had noticed for the last two months, is that there are many refugees who come not from Ukraine, but from Russia or the former Russian republic. We are helping all newcomers.
"Ethnicity, language or nationality should never be a basis for any argument or disputes."
Avramenko and other leaders of the church of about 2,700 Russian, Ukrainian and other Slavic worshipers decry the war. He and other pastors there have led the church in settling 40 refugee families in California since April, hiring a temporary employee to work with and coordinate volunteers focused on the outreach.
RELATED: After 43 Days, Ohio Pastor Hears From Daughter Missing in Ukraine
Russian Baptist welcomes refugees to worship services and encourages them to participate in fellowship. Transportation, housing, court appointments, banking, social services, medical care and school enrollment are among necessities the church helps refugees navigate.
"That is an endless service and very appreciated by refugees because most of the time, they don't know where to start," Avramenko said. The church received a family of six July 12 and helped them apply for social services including food stamps and medical assistance the very next day, he said.
Tatiana Vinnikova, a Ukrainian member of the church, is the new hire. She helps refugees not only find housing, but navigate governmental regulations and documentation.
"During these months, I realized that I like to serve such families. I myself am from Ukraine and my heart is breaking from what is happening now in my country," Vinnikova said. "Ukrainian refugees need, first, moral and emotional support, housing, transportation, work, (and help) in matters related to documents and legalization in the United States. I will do this as long as they need me."
RELATED: 'God Is Good!': Ukrainian-American Pastor Freed by Russian Kidnappers
The U.S. is poised to welcome about 180,000 Ukrainian refugees as a result of the war, the Migration Policy Institute estimates, including the nearly 60,000 eligible for Temporary Protected Status for 18 months announced in March, 100,000 the Biden administration authorized in April through a combination of the Uniting for Ukraine program and other more permanent entry pathways, and a reported 20,000 Ukrainians who arrived through Mexico without authorization to enter in a practice that ended in April.
Vinnikova recalls Ukrainian couple Maryna Stupak and Dmytro Yefimov, who married in Kyiv in early February before the invasion, but were unable to return home after their honeymoon because of the war.
"They heard about such a program as Uniting for Ukraine and decided to fly to the USA. They had to fly from the Dominican Republic. It was not an easy way for a young family," Vinnikova said. "Our church helped them with housing. They lived for more than two months in a family where they were taken care of, they received the necessary documents and passed for driving."