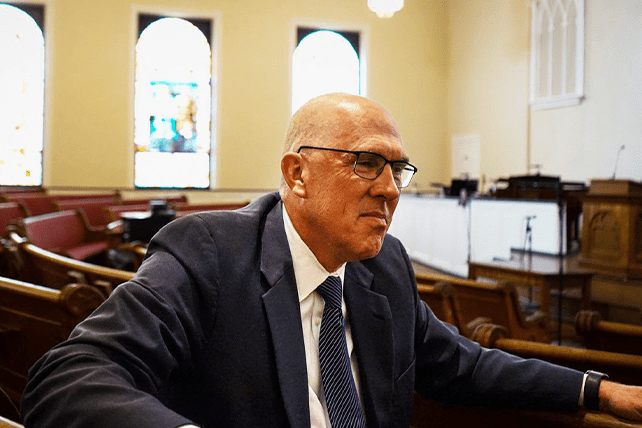 FARMERSVILLE, Texas (RNS) — Fighting summer sunlight tinged mauve by stained glass windows, a screen at the front of the sanctuary flashed the week's birthdays as members of the First Baptist Church of Farmersville filed in for the 11 a.m. service — business as usual at the tiny rural church an hour from Dallas.
Except for one thing: A month before, the church's pastor, Bart Barber, had been elected president of the Southern Baptist Convention.
Barber succeeds Ed Litton, an Alabama pastor who declined to run for a customary second term as president, adding more drama to the denomination's 2022 annual meeting, where Southern Baptists approved a series of reforms to address sexual abuse. Those reforms had been drawn up after a report, released days before, found SBC leaders had mistreated survivors of abuse by pastors and church staff for years and sought to downplay its severity.
While he has been involved with SBC polity for years — he was the head of the resolutions committee that selected and shaped many of the proposed reforms — Barber is the first SBC president in nearly two decades not to emerge from an urban or suburban megachurch. During an interview in Farmersville, he said that the jump from leading a small-town church to representing the nation's largest Protestant denomination is "tons of pressure every day, starting at 4 in the morning."
At the 11 o'clock service, Barber looked none the worse, delivering a sermon on grace and forgiveness based on a passage from the Book of Leviticus. He excoriated social media cancel culture as the modern equivalent of a bloodthirsty mob, before reviewing Farmersville's recent Bible youth retreat. Some campers, he jested, "met Jesus for the first time. Others met COVID BA.5." The hundred or so predominantly white congregants in the pews laughed appreciatively.
Barber's win at the June meeting in Anaheim, California, represented progress in the SBC's long battle over sex abuse reform. He supports the appointment of a task force in charge of creating a long-sought database of abusers for use in background checks and urging greater accountability.
But Barber also talks about shifting the balance "to the people" of the SBC, arguing that decentralization — preserving the historical autonomy of the denomination's churches — will mean more transparency and vigilance in preventing further sexual abuse.
"The SBC is decentralized in terms of polity for the same reasons that the (U.S.) Constitution, if it were being followed, is decentralized in terms of polity," Barber said. "We are decentralized because of a suspicion of power."
Critics argue the SBC's decentralized structure makes it more difficult to discover abuse and hold its perpetrators accountable. SBC leaders long emphasized that churches' independence meant the SBC had no ability to force specific action against abuse, and insisted SBC leaders could not keep a database because they had insufficient oversight.
The SBC's adherence to decentralization was an "excuse," said Grant Gaines, senior pastor of Belle Aire Baptist Church in Murfreesboro, Tennessee.
The SBC's lack of oversight, but mostly its mismanagement, allowed abusers to slip through the cracks, Gaines said, adding that most SBC leaders and churches now want to collaborate to address the abuse.
But Barber's vision of the SBC is small-d democratic, and nonhierarchical. He wants to champion the unheard voices of Southern Baptists in the far-flung, often isolated rural churches like his. Barber said he hopes to use social media to give a voice to SBC members who've previously been ignored. "Social media democratizes the ability to be heard," said Barber, who has more than 20,000 followers on Twitter and has tweeted just shy of 50,000 times.