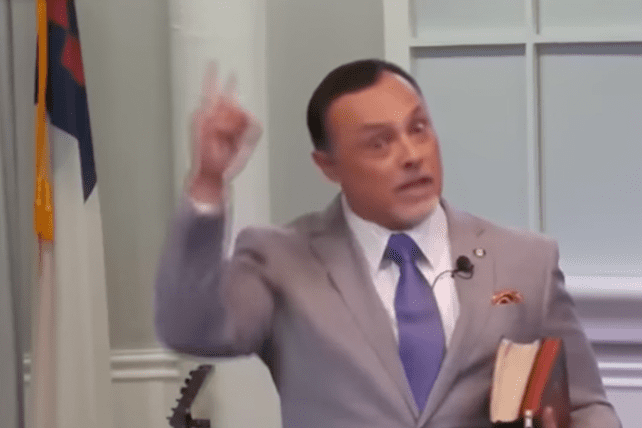 58-year-old pastor Gordon Mueller has been arrested and charged with the attempted murder of an off-duty Los Angeles County sheriff's deputy whom he allegedly shot in Harbor City on Monday. The victim was also Mueller's son-in-law, and the shooting is believed to be the result of a domestic disturbance. 
On Monday evening around 7 p.m., shouting could be heard coming from the pastor's home, an argument that turned into a physical altercation and then shooting. 
Though the victim was married to Mueller's daughter, the two were separated and Mueller's daughter and grandson were living at Mueller's home, according to Newsweek. 
"I believe he was just trying to defend his family," one neighbor said. Characterizing Mueller as a "nice guy," the neighbor expressed that he hopes "nothing happens" to Mueller. 
RELATED: 'You Just Pray': Mother Reports Son Planning a High School Killing Spree, Pleads With Parents

Describing what followed the shooting, the neighbor said, "The shooter, the dad, he stuck around. He was there; the police came, and they arrested him on the spot. But he wasn't trying to get away. I did hear somebody yell, and I don't know if it was him, that, 'he was trying to kill me.'"
Mueller had been the pastor of Believers' Victory International Church in Carson, a church he founded with his wife in 2002. According to the church's website, the church was "birthed in the living room of their home."
"The days of putting together nicely cute, warm and fuzzy sermons are over," Mueller said in a recent sermon. "Our messaging has to be lined up with Him."
The victim, who is a 10-year Los Angeles County Sheriff's Department veteran, is listed as being in stable condition and is expected to recover. 
Mueller is being held on $1 million bail.  
RELATED: Church's Livestream Catches Thieves Stealing Over $1 Million Worth of Jewelry From Pastor and His Wife
ChurchLeaders has reached out to Believers' Victory International Church for comment and will update this article in the event of their response.