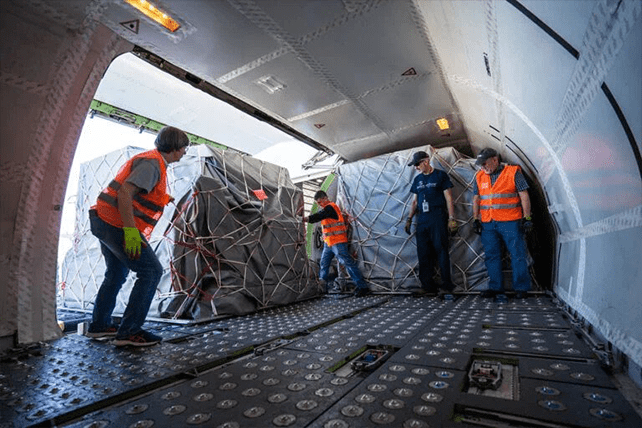 NORTH WILKESBORO, N.C. (RNS) — Each week, in a hulking warehouse in this small, western mountain town, Samaritan's Purse employees load semi trailers full of supplies for the people of Ukraine: medicines, food, tarps, blankets, hygiene kits and school bags for kids.
The trucks are then driven 80 miles east to the Piedmont Triad International Airport where they are loaded onto the nonprofit's DC-8 aircraft specially configured to carry up to 84,000 pounds of cargo. From there the goods are airlifted to Poland and then trucked across the border into Ukraine.
This week, Samaritan's Purse, headed by evangelical leader the Rev. Franklin Graham, made its 30th airlift since Russia began its offensive against Ukraine in February.
The Christian relief organization estimates it has helped 5.5 million Ukrainians with medicine, food and water. Earlier in the conflict, it also operated an emergency field hospital and outpatient clinic in Lviv, treating an estimated 17,758 patients. It now supports 30 medical facilities across the war-ravaged country.
The organization's 160,000-square-foot warehouse in North Wilkesboro employs 385 people who buy, repair, maintain and retrofit millions of dollars' worth of medical equipment, generators and water filtration systems, much of them donated. The warehouse has six emergency field hospitals ready to ship, four with tents, hospital beds, anesthesiology equipment, X-ray machines and surgical suites — all engineered to fold into a plane's fuselage. There are also miles of plastic tarps, mountains of used clothing and boxes full of small brown teddy bears with the Samaritan's Purse logo — a cross inside a circle.
Samaritan's Purse, now in its 52nd year, has become a powerhouse of faith-based international relief.
Ukraine is now drawing on much of that relief, but in any given year, the organization aids people in 110–120 countries. It sent supplies to Pakistan after unprecedented flooding from monsoon rains this past month. It has a mobile medical team at 11 different sites across civil war-torn Yemen. It is helping farmers in Iraq's Sinjar Mountains plant strawberries.
And then there are multiple U.S.-based recovery efforts. Samaritan's Purse volunteer teams recently sawed off tree limbs and cleared damaged homes in Kentucky and Missouri where a rash of disastrous floods ruined homes and businesses.
The nonprofit's mission is based on the parable of the Good Samaritan as told in Luke's Gospel, in which a man is stripped, beaten and left for dead on the side of the road. He is rescued, not by those with power or authority, but by an outsider — a Samaritan — who bandages his wounds, takes him to an inn and pays the innkeeper to look after him.
To many, Samaritan's Purse may be best-known for giving shoeboxes full of toys to needy children around the world. But over the past 10 years, it has grown into one of the largest U.S. faith-based nonprofits, with annual revenues last year of $1 billion.
A review of its annual 990 IRS form shows Samaritan's Purse's revenue has doubled since 2014, and its assets have quadrupled. It now ranks at No. 23 in the Chronicle of Philanthropy's 25 largest U.S. charities, a list that includes mostly non-religious charities.'
Today, Samaritan's Purse is in a league with the American Red Cross, Catholic Charities and Lutheran Services in America. In 2020, it surpassed in cash revenue the Christian charity World Vision, with whom it shares a founder: former missionary and evangelist Bob Pierce, Franklin Graham's inspiration and mentor.