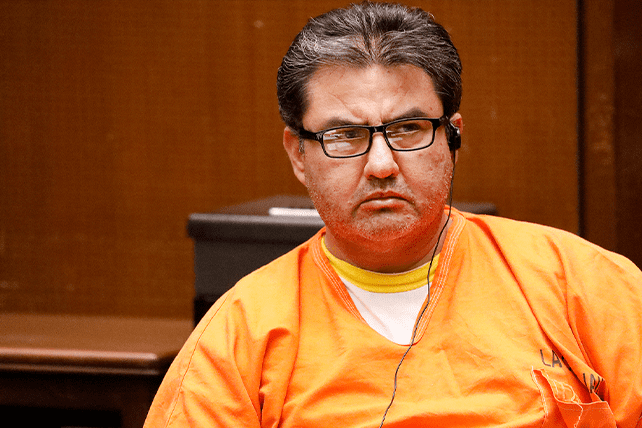 LOS ANGELES (RNS) — Naasón Joaquín García, the leader of La Luz del Mundo, is facing a new lawsuit filed by five women who allege he sexually abused them while other church members groomed them and used the religion as ammunition against them.
The five women are identified as Jane Does in the civil lawsuit that was filed Thursday (Sept. 8) in Los Angeles Superior Court. The women, who range in age from 20 to 28, were also the Jane Does included in the criminal charges filed against García by the California Attorney General's office, attorneys said.
They cite sexual battery, intentional infliction of emotional distress, negligence and gender violence and seek unspecified compensatory and punitive damages against the church.
Named in the complaint are: 53-year-old García, who is in prison after taking a plea deal in criminal charges brought by California Attorney General Rob Bonta; as well as Alondra Ocampo, Susana Medina Oaxaca and Azalea Rangel, who allegedly groomed the women to be abused by García; and Alma Zamora de Joaquín, who is García's wife and who attorneys said knew of her husband's alleged abuse and the grooming of the young women. García's three children — Adoraim Joaquín Zamora, Eldai Joaquín Zamora and Sibma Joaquín Zamora — were also named in the suit and were allegedly aware of the abuse and grooming.
"Naasón didn't work alone in perpetuating his abuse," Jonati Yedidsion, one of the attorneys representing the Jane Does, told reporters at a news conference in downtown Los Angeles on Monday (Sept. 12).
"Many members of the highest level of the church, including several of Naasón's family members, were aware of the church aiding and participating in the abuse of these victims," Yedidsion said.
The five women and their families are not under police protection and have been harassed and threatened by members of the church, according to Yedidsion.
A spokesperson for the church has not returned a request for comment.
The alleged abuses by García occurred between 2015 and 2019, according to the suit.
From the time they were young children, the women "were routinely coerced" to believe García's "wishes and desires were direct orders from God, that he was without sin and incapable of committing any wrongs," according to the complaint.
Attorneys in the suit allege that the women were led to believe disobeying García would "lead to catastrophic consequences including, but not limited to, eternal damnation, unspeakable tragedy, infertility, and countless other harms" to the women and their families.
The women, according to the suit, believed in the church doctrine and that their "eternal salvation depended upon them doing whatever the Apostle commanded as well as keeping him happy."