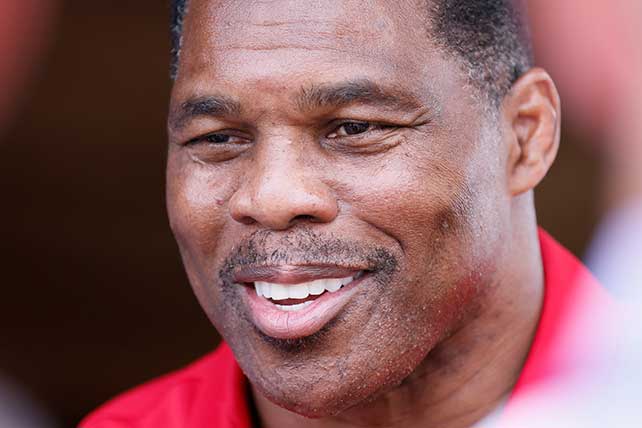 (RNS) — Georgia Republican candidate for U.S. Senate Herschel Walker attended a closed-door prayer event at a prominent evangelical church in Atlanta on Tuesday (Oct. 4), huddling with religious supporters a day after he denied allegations he paid for an abortion in 2009.
The event, a "Herschel Walker Prayer Luncheon," was convened at First Baptist Atlanta, which was once led by prominent evangelical leader the Rev. Charles Stanley. Press was reportedly barred from the event, with an official saying the decision was made by the church and Walker's campaign.
Kelly Stewart, First Baptist's director of business operations, told Religion News Service the event was not preplanned, but an Eventbrite invitation for the luncheon was later found online, and it was unclear how long ago it was created. The luncheon came together, she said, because Walker's campaign "was looking for a place to bring the prayer warriors to gather for Mr. Walker."
Stewart said the event drew around 240 people and largely consisted of the church's current pastor, the Rev. Anthony George, asking Walker questions about his faith and "religious liberties." She said Walker also offered his personal testimony, after which the group prayed over him. Footage of the event shared on social media and unearthed by Word and Way also showed George celebrating the presence of conservative Christian activist Ralph Reed in the crowd.
"Everyone gathered around him and prayed for him and prayed for our country," Stewart said.
However, Stewart said the pastor did not ask Walker about a new report published by the Daily Beast on Monday alleging the candidate paid for the abortion of a woman he impregnated in 2009.
RELATED: Herschel Walker's Son Accuses Father of Violence, Hypocrisy After Abortion Story Breaks
"We did not get into personal things with him," Stewart said. Facebook videos of the event did not feature George asking Walker about the reporting, although the pastor appeared to allude to it on multiple occasions and also spoke critically of the press.
According to the Daily Beast's report, the woman, who remained anonymous, shared with the outlet a $575 abortion clinic receipt, an image of a signed $700 personal check from Walker and a "get well" card featuring what appears to be his signature.
Walker denied the allegations on Monday, calling it a "flat-out lie" and threatening to sue the Daily Beast over the article. The outlet has since said it stands by its reporting.
"I can tell you right now, I never asked anyone to get an abortion," Walker told Fox News host Sean Hannity Monday evening. "I never paid for an abortion — it's a lie."
Walker's campaign did not immediately respond to requests for comment about the event.
First Baptist is one of several churches to have hosted Walker during his campaign this year, including when George appeared with the candidate during worship for a question-and-answer session in front of the congregation. After Walker told George, "I'm not just going to Washington, I'm taking Jesus with me," the pastor asked the former NFL star about his "pro-life" stance.
"When somebody asks me that question, I say it's strange, it's so strange, because I'm a Christian," Walker replied. He later added: "Did I not say I'm a Christian? That means you're supposed to be pro-life."