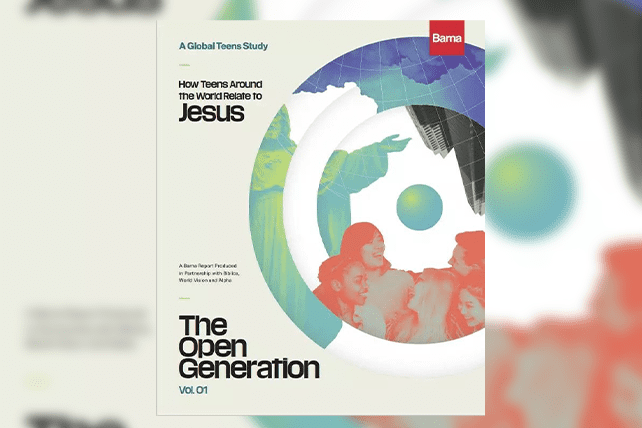 DALLAS (BP) – Teenagers have favorable opinions of Jesus but find Christians less loving than the Savior, the Barna Group found in a global study of 25,000 teenagers in 26 countries.
The gap between the number of teens who have positive perceptions of Jesus but negative perceptions of Christians is not surprising, Barna CEO David Kinnaman said Oct. 5 in a webinar exploring the findings.
"Especially as we look at non-Christians, there would be greater sort of gaps here the church has to look at," Kinnaman said. "So how do we represent Jesus authentically? How do we help close the gap?
"And remembering that we can't be perfect, but I think it's even important for us to help young people understand and modify their expectations, that you're likely going to be disappointed with Christians. And why does that mean that you still need to put your trust in Jesus?"
Barna surveyed youth ages 13-17 and presented the study as insight to help the global church engage with teens in meaningful ways.
In other key findings, about half of teens of all faiths (47 percent) believe Jesus was crucified, one third (33 percent) believe He arose from the dead and the majority of teens (59 percent) are very or somewhat motivated to learn more about Jesus, Barna said in releasing the first volume of its 2021 study "The Open Generation." Many teenagers who identify as Christian haven't necessarily made a personal profession of faith.
Of the 25,000 teens surveyed, Barna described 22 percent as committed Christians who profess a personal commitment to follow Jesus and 30 percent as nominal Christians who haven't made a personal faith commitment. The remaining 48 percent were non-Christian.
"This study is intended to help us listen to teens today," Kinnaman said in a press release. "The impression these voices offer is that this generation is open, inclusive and curious about different faiths and perspectives.
"Our data suggests that although this generation may not deeply engage with Jesus, they are open to Him, and when they do engage, they experience positive effects."
Globally, nearly half of teens across all faith groups describe Jesus as loving (49 percent), believe He offers hope (46 percent) and believe He cares about people (43 percent). Jesus is perceived as trustworthy, generous and wise.
But only 31 percent of teens view Christians as loving, Barna said. Rather, 18 percent of teens perceive Christians as hypocritical, compared to 3 percent who ascribe the characteristic to Jesus. While 16 percent of teens believe Christians are judgmental, only 4 percent say Jesus is. Teens ascribe friendliness about equally to Christians (34 percent) and Jesus (36 percent).
The study will be released in three volumes in partnership with Alpha, Biblica and World Vision, with support from Christian Vision, Bible Study Fellowship, Christ In Youth and the Association of Christian Schools International.