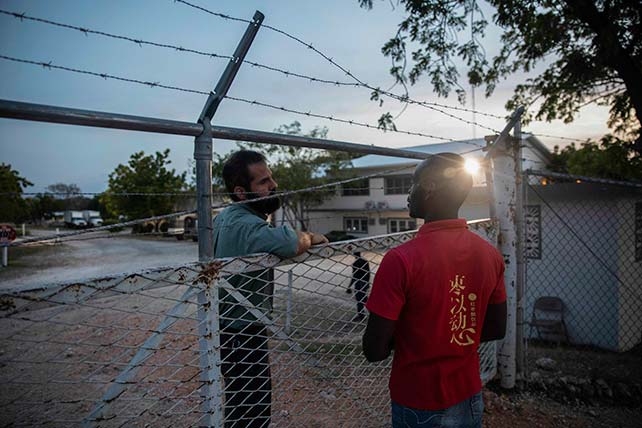 A year after 17 North American missionaries were kidnapped in Haiti, beginning a two-month ordeal before they ultimately went free, the agency that sent them hasn't made a permanent return, and several other international groups have also scaled back their work there.
The kidnapping underscored a deteriorating security situation that has worsened in the past year, with Haitian leaders calling for foreign troop deployments to help break the paralyzing grip of gang activity and protests.
The missionary group, including five minors ranging from an infant to teens, was abducted Oct. 16, 2021, while returning from a visit to an orphanage supported by their organization, Christian Aid Ministries.
It was the largest kidnapping of its kind in recent years, though hundreds of abductions have targeted Haitian nationals and drawn scant international attention.
The hostage-takers from the notorious 400 Mawozo gang demanded $1 million ransom for each victim, CAM says. After two were released for medical reasons and three others ransomed by a third party for an undisclosed amount, the remaining 12 went free Dec. 16 after what they described as an overnight escape.
RELATED: URGENT: All From US Missionary Group Freed in Haiti, Police Say
The standoff came just a few months after a presidential assassination and an earthquake that killed and injured thousands.
Currently, basic supplies such as fuel and water have dwindled since a powerful gang seized control of a main fuel terminal in the capital, Port-au-Prince. Demonstrators have blocked roads to protest a spike in fuel prices, and gas stations and schools have closed.
Some North American workers from CAM have visited Haiti in the last year, "checking up on things as they're able," spokesman Weston Showalter said. But there's no timetable for a permanent return.
"It seems like things are more difficult there than ever," he said, adding that Haitian staff work is also hindered by the crisis.
The kidnapped missionaries included 16 Americans and one Canadian. Christian Aid Ministries, based in Berlin, Ohio, draws support from conservative Mennonite, Amish, Brethren and related groups. The agency, which has worked in Haiti since the 1980s, is weighing the lessons of 2021.
"We've become hypersensitive to the risk," Showalter said. "So especially the matter of women and children being present there, I would say that is a big matter of discussion."
Other faith-based agencies are also struggling to respond to Haiti's plight.
"There's not a clear path forward," said Alex Morse, deputy regional director for Latin America and the Caribbean for Church World Service, a partnership of more than 30 Christian denominations and communions in the U.S. that provides development assistance and disaster relief worldwide.