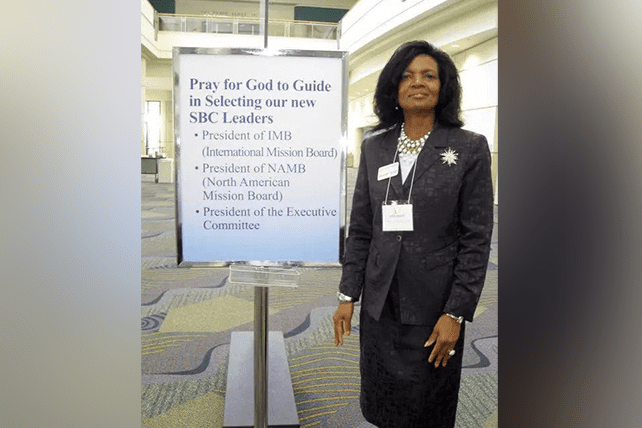 ORLANDO, Fla. (BP) – Pauline Dawkins-Cole, volunteer leader of the intercessory prayer ministry of First Baptist Church of Orlando, considers her very life a product of prayer.
As she tells the story to Baptist Press, her parents – the late Frederick Augustus Dawkins, who pastored Baptist churches in Jamaica for 70 years, and Dorcas Deltora Dawkins, a missionary and teacher – prayed eight years to conceive a child. When Pauline's mother became pregnant with her, doctors first diagnosed the pregnancy as a tumor.
But her parents prayed through the ordeal, gave birth to Pauline and seven additional children while leading ministry in Jamaica that was partly supported by the Home Mission Board, the precursor to the North American Mission Board.
God made clear the importance of prayer in Dawkins-Cole's life, she told Baptist Press, as she prepared to speak on prayer at a women's conference years ago.
"Your life was birthed out of prayer," she heard in her spirit. "If it wasn't for prayer, you would never have been conceived, been born, married, have a daughter and do all that you're doing. Your life is based in prayer. Those were the words I heard.
"But because your parents prayed for you," she sensed the Lord telling her, "I answered their prayer and I pulled you out of the womb of nothing through prayer."
She joined First Baptist Church of Orlando in March of 2006. There, she helped found an intercessory prayer ministry that originally focused solely on praying for pastors. First Baptist Pastor David Uth expresses appreciation for Cole's ministry.
"Sister Pauline is the epitome of a faithful and fervent prayer warrior," Uth told Baptist Press Oct. 17. "In my 46 years as a pastor, I've never known a more powerful woman of prayer. Every pastor needs someone just like her in his church."
In 2019, Dawkins-Cole began focusing more on community and international prayer concerns and outreaches while remaining active at Orlando First.
She's active in several prayer and evangelistic initiatives under the auspices of Dawkins International Ministries, Inc. (DIMI), founded in Jamaica and the U.S. by her father long before his death in 2019 at the age of 101. As DIMI vice president, she leads the group in several in-person and virtual prayer outreaches weekly, utilizing a prayer conference telephone line, Zoom and WhatsApp. The group has mobilized participants from as many as 50 countries, Dawkins-Cole said.
She prays in the official prayer room at Southern Baptist Convention annual meetings, having begun at the 2010 meeting in Orlando, and prayer walks the halls of annual meeting venues, praying for those she encounters. Unable to attend the 2022 meeting, she recruited her brother Samuel Dawkins, pastor of Westside Baptist Church in Fontana, Calif., to serve in Anaheim.
She volunteers as a National Day of Prayer ambassador-at-large for the state of Florida, leading prayer emphases throughout the year.