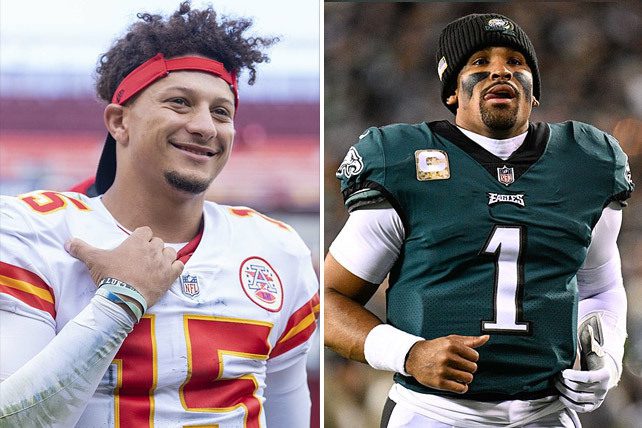 Super Bowl LVII will feature the first-ever matchup between two Black quarterbacks—both of whom are outspoken Christians. Patrick Mahomes is taking the Kansas City Chiefs to their third Super Bowl in four years, and Jalen Hurts of the Philadelphia Eagles is making his debut at the big game.
After yesterday's AFC and NFL Championship matchups, both athletes expressed their gratitude to God.
Patrick Mahomes Thanks God Ahead of Super Bowl LVII
Mahomes, usually an agile runner, has a high ankle sprain that limited his mobility Sunday against the Bengals. The 27-year-old quarterback, seen limping during the AFC battle at Arrowhead Stadium, credits God with providing physical strength and healing.
"I want to thank God," Mahomes told Tracy Wolfson of CBS during a post-game interview. "He healed my body this week. To battle through that, he gave me the strength to be out here."
As Church Leaders has reported, Mahomes grew up going to church and was baptized in the seventh grade. He has described faith as "always…a big part of what I do," saying it "really helps you know why you're playing the game, and who you're doing it for."
Chiefs co-owner Clark Hunt, also an outspoken Christian, partners with local churches and the Fellowship of Christian Athletes to hold chapel services at Arrowhead before home games. After Sunday's 23-20 victory against Cincinnati, he accepted the Lamar Hunt AFC Championship Trophy, named for his late father, saying, "The Lord has blessed our family in so many ways, including with the best fan base."
Eagles QB Jalen Hurts References John 13:7
Hurts, 24, also speaks frequently about his faith in Jesus. After Sunday's NFC Championship game at Philadelphia's Lincoln Financial Field, he expressed gratitude for God and his teammates. "Only God knows the things that each individual on this team has been able to overcome to come together as a team and do something special," he said.
The Eagles, who lost only three games during the regular season, defeated the injury-stricken San Francisco 49ers by a score of 31-7.
Speaking to reporters afterward, Hurts referenced his rocky road from second-round draft pick to Super Bowl contender. "It always handles itself," he said of life's twists and turns. "My favorite [Bible] verse, I went through a lot of stuff in college, and it kind of stuck with me, John 13:7: 'You may not know now, but later you'll understand.' Hopefully people understand."